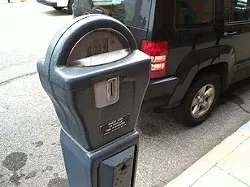 Beginning today, Cleveland will increase parking rates on all meters and lots across the city.
Parking meters will now cost an extra 25 cents per hour, while parking lot rates have increased by a full dollar.
The extra change will go toward upgrading the meters themselves, and it will also help maintain the parking lots. It's expected to bring in an extra $1 million to the city.
Here's a breakdown of what metered parking in Cleveland will cost:
Central business district increases to $1 per hour, up from 75 cents per hour

Institutional zones increase to 75 cents per hour, up from 50 cents per hour

All other areas increase to 50 cents per hour, up from 25 cents per hour

And an example of increased rates at Willard Garage (near City Hall, operational 5 a.m.-11 p.m. weekdays):
First half hour is $3.25, up from $2.25

Additional half hour is $1.50, up from $1.25

Maximum rate is $10, up from $9

Lost ticket is $10, up from $9

Early bird (before 8:30 a.m.) is $8, up from $7
The rate increase was
discussed back in November
and officially passed in April. This is the first time since 1989 that the city has changed parking rates.