Everyone loves the lights on the Terminal Tower. Lately, they've emblazoned the 85-year-old building in wine and gold as the Cavs work their way torturously toward an NBA championship victory.
Scene
spoke with the Tower's handlers to get a sense of how the whole lighting thing works and what Clevelanders love best about this modernized downtown icon.
Lots of Cavs love lately. Has that spurred more notice of the lights — on social media and amid the talk of the town?
I think it's because of the playoffs and the national attention that we receive. Whenever they have good shots of the city from the blimp or wherever they're shooting the aerial shots from — there's an uptick in traffic on
the Twitter feed
when people notice the Tower on TV. That's kind of a big thing. Since the playoffs have started, with the exception of a couple pre-scheduled events, the Tower has been pretty much All In and wine and gold all the time, whether they're playing or not. We've been trying to keep that going, you know: the city's All In, the Cavs are All In, the Tower's All In.
Are the color shifts done in real-time?
Yeah. When something is happening or when they're running aerial shots, we'll start having the lights do fun stuff to get attention on TV.
Regarding the Twitter persona, have you noticed trends? What sort of conversations do you end up having with people?
You know, it's easy to watch the trends. We've been doing this for — this is our second year now. We know when events are happening, we know when people are downtown, we know when nobody's really paying attention. When there are things happening — you know, when the Indians are playing we'll get a lot of requests from people at the game for specific colors. Now that there are concerts happening down at Nautica, we have people who are down there for shows and they'll tweet requests. The Tower is pretty accommodating when it can be — just to show off for people or flash different colors for people who are downtown. The NBA Finals are a big deal, so we get a lot of notice from that.
What was the genesis of the idea of having lights up there in the first place? What goals were outlined?
The Tower has always had lights. Ever since it opened in 1930, there was always some type of lights on the building. There used to be lights up on the 50th floor that actually shined out from the building like beacons. So there's always been some type of lighting. We started doing color changes just under 20 years ago. That process was — we had to put guys out on the building with theatrical gels that we had to make. It would take about three days to change the lights to a different color. They would have to go out there and literally crawl around on the building and strap these gels to these lights that we had. It was pretty intense, and you really had to plan accordingly. If you knew you were doing holiday lighting or Fourth of July's red, white and blue, it was really interesting. You can't just take a blue gel and put it on a light and shine it on the building and have it look blue. You really have to tweak it, because you're not just shining it onto a white wall. You really had to experiment with what blue looked like on the building. Once we got it down, it looked cool, but it still took six guys three days to go out there and change the color.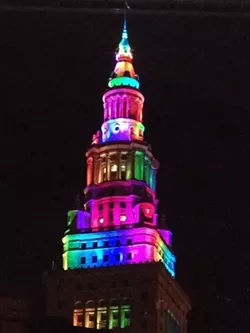 Things are much easier now, I'd assume?
We had a big facade restoration that started in 2005, and there were some LED lights — it was kind of an emerging technology. Not a lot of companies were doing it. We went to GE first to try to get some local participation, but they just weren't designing at that level. We ended up going with lighting from Philips. It's Color Kinetics — the brand of the light fixture. We decided at the time that people liked the color changes. We wanted to continue to do it, so we went ahead and had the lights put on the building during that facade work. From 2005 to 2010, we were adding the lights as we were doing the building.
How many lights in all?
There are 508 individual light fixtures on the building. Those go from the 30th floor up to the 52nd floor. Each light is addressable, so each one can work independent of the others — you can make various colors that way. When we first did it, we didn't think much — we thought it was a good system and we programmed probably about eight or 10 color changes. Just basic ones — Cavs; Indians; Browns; pink; red, white and blue. As people started to notice that we had these really nice lights, more people and charities would request their colors for their different national campaigns.
Twitter, at which you seem adept, is probably helpful at facilitating those requests, yeah?
We were in a meeting discussing some opportunities, and I mentioned that it would be good to have a Twitter account — just to put out what the colors would be and why. Someone in the meeting said that he was already following me. I'm like, "What do you mean?" He said, "Well, there's already a Terminal Tower lights Twitter account." I said, "It's not me!" There was a person over in Ohio City who was tweeting the colors as if they were actively involved in the process. That got us excited. I started it kind of in anger and kind of went after that person — going after their followers and just showing that, hey, this person is just an observer; we actually have the ability to change the lights. That was in March [2013]. The timing was really good because the MAC Tournament was coming. We started promoting with the teams that were playing — getting some rivalries going. It snowballed from there.

I've noticed the Twitter account sharing photos of the Public Square renovations — things that are sort of unique, just based on the Tower's vantage point.
That was the other part of it. It started out just being about the lights, but we've got the Terminal Tower — this historic building — and people in Cleveland are very fond of their historic buildings. We started tweeting out photos of the Greenbriar Suite inside the building, the falcons on the building. We started doing trivia and giving away Terminal Tower swag.
Do you have any favorite color schemes?
We do a really cool rainbow effect where the building looks like it's a spinning rainbow. The strobe effects are fun. Colors that look really good on the building: red, white and blue; purple; blue. I kinda like them all.
I've seen the rainbow things at certain points, and it's sort of fleeting. Is that a spur-of-the-moment thing or does that come from requests?
Occasionally it's a request. A lot of the times - if the Tower knows people are downtown and paying attention, it just tries to get noticed. It'll just do random light shows to see if people are watching.