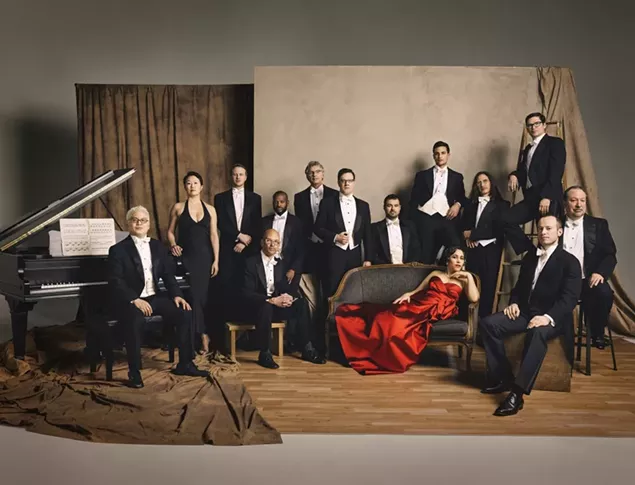 Singer-songwriter China Forbes is a musical renaissance woman to say the very least. After graduating from Harvard, Forbes, who fronts the eclectic jazz/Latin/lounge act Pink Martini, began to make a life for herself in New York until college friend and Pink Martini founder, Thomas Lauderdale, called her in a bit of a bind back in 1994.
"Thomas called me and said he needed a singer in three days for an event in Portland, Oregon," Forbes recalls via phone from a Pittsburgh tour stop. " He Fed-exed me a cassette tape of all the songs from the live performances Pink Martini has done, some sheet music and a plane ticket."
And with that, Forbes learned the music for what would be her first performance of many with Pink Martini. She studied for the performance on the plane ride from New York City to Portland.
After a whirlwind introduction to Portland, and multiple trips back and forth from New York to Oregon, Forbes "grew to love singing with Pink Martini and decided to move there." In a few short years, Pink Martini transformed from a Portland based band performing at political fundraisers to a global phenomenon.
Their most recent album, 2014's
Dream a Little Dream,
features the famous vocal group The Von Trapps. It combines Latin-infused jazz and lounge with moving vocal harmonies. One of the album's standout tracks, "The Lonely Goatherd," features an unlikely combination. While the Von Trapps provide some soothing backing vocals, raspy-voiced Wayne Newton contributes a colorful narrative about a lonely little girl stuck in the goatherd. It's symbolic of just how exotic the band's sound can be.
"It's been exciting to watch [the band] grow especially because its been really word-of-mouth driven," Forbes explains. "We haven't had a ton of publicity or radio exposure or a big advertising campaign, and we've always been on our own label."
With very little promotion of the band, Forbes accredits its global status to their unique style and place within modern music.
"Pink Martini exists outside of trends in the music business because it isn't commercial," she says. "It's very old-fashioned and speaks to romance and melody, and I think people find that refreshing"
It's not often you find a musical act that has won multiple awards in France (Best New Artist and Song of the Year to name a few), topped pop charts in Japan, contributed to film soundtracks in Italy and received incredible reviews in America for a holiday album. Though it's clear Pink Martini has transcended cultures, Forbes notes that when she's at home in Portland, she doesn't fully recognize the impact her band has had across the world.
"People will always come to me with stories like 'I was trekking through Nepal and I came across a shed and they were serving water and your music was playing' or ' I was in a cab in India and heard your song,'" jokes Forbes. "When you hear that it starts to dawn on you that your music has found its way to the most remote and unexpected places. Postcards from around the world alert us to the fact that people are listening."
After making the decision to undergo vocal surgery in 2011, Forbes is currently sharing vocal responsibilities with fellow Pink Martini vocalist, Storm Large. Though the decision to undergo the surgery was terrifying for Forbes, "it turned out to be a very positive experience."
"I really needed a break and my body was telling me I need to stop and the only way I could do that was if I stopped singing and talking," she says.
With time away from the constant touring around the world, Forbes was able to spend time with her infant son and focus on a safe and seamless recovery.
"The vocal chords healed perfectly with no scarring, and I'm actually singing much better than I did before the surgery. I've been taking voice lessons and working on things that I really wanted to work on with my voice."
With her newfound vocal skills, Forbes hopes to work more on her solo album as well as record a children's album in the future, but right now Forbes is celebrating the release of her sister Maya Forbe's film
Infinitely Polar Bear
. The film provides an autobiographical account of the life of the Forbes sisters with original music composed by China Forbes herself.
In addition to her own work, she's also gearing up for the next Pink Martini album.
For the current tour, expect the band to play music from its extensive discography.
"It's very hard to pick what to play because there's so many songs now. I always feel kind of sad when certain songs fall off the setlist and there are so many beautiful songs we don't play," says Forbes.
Despite the struggle of choosing a setlist, audiences of this tour "seem to be really happy about the song choices."
"I think we've managed to put on really great shows and the band sounds great," she says. "The tour's been going really well with no catastrophes."
Pink Martini, 7:30 p.m. Thursday, July 16, Cleveland Museum of Art's Gartner Auditorium, 11150 East Blvd., 216-421-7350. Tickets: $45-$70, ticketweb.com.