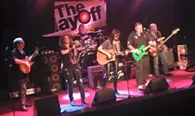 Courtesy of the Rock and Roll Hall of Fame and Museum
The Mattel band The Toys
Corporate rock will be celebrated when eight bands that are literally associated with corporations perform at The PlayOff, a national competition to find the best company rock band in the States. The event is slated to take place on September 12 at the Rock and Roll Hall of Fame and Musuem.
Bands include Swann Communications' Band from the Boardroom (Santa Fe Springs, CA), Indiepay's Esquella (New York City, NY), Mattel's "The Toys" (El Segundo, CA), Gartner's Gartner In the Cloud" (Stamford, CT), Erie Insurance Group's Above All In Volume (Erie, PA), GE Aviation's Title 14 (Whippany, NJ), Excella Consulting's Detached Retina (Washington, DC) and Gracenote's Gracetones (Emeryville, CA).
Tickets
are on sale now.