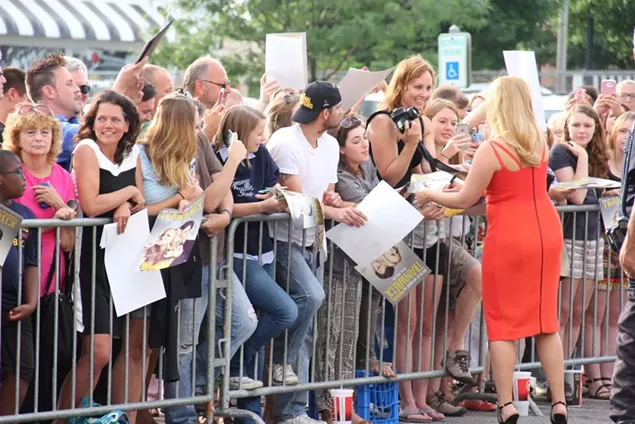 Caitlin Summers / Scene
Amy Schumer signing autographs.
*Ne'er has a legitimate red carpet been so plush- and primly unrolled on the parking lot outside the Regal Montrose 12, if indeed a red carpet has ever been unrolled at the Regal Montrose 12 at all. The Regal Montrose 12 is a shopping-plaza cineplex on Akron's northwesternmost edge, 40 minutes south of Cleveland during non-peak hours. It's fashionable these days to characterize movie theaters of its ilk as "crumbling" because they have fewer screens and worse butter than your Valley Views and your Crocker Parks, but this one's not-quite-literally crumbling. Exterior-wise, it's got one of those chintzy, Art Deco-ish skyline facades and "REGAL" arranged vertically in red letters above and perpendicular to the marquee.
*Which marquee, this afternoon, has been fully commandeered by
Trainwreck
signage, signage for the Akron screening specifically. "Akron, Ohio" and "#Ipromise," in what looks to me, at first blush, like the same Comic-Sansian font used in
the serial comic strip Frazz
, are all over the place. The
Trainwreck
marquee signs are the same semi-rigid plastic of which ads on public transit are composed. The vast, LeBron-centric banners draped on both sides of the entrance recall billboards a lot more readily than they recall standard bedroom movie posters and they neither whip nor flap because there is no breeze. It's 3:55 p.m. and I've arrived early for the 5:00 p.m. press call and the 6:30 p.m. celeb arrival to soak up what I've decided to call the Atmosphere.
*#Ipromise = "I promise never to forget where I came from," the LeBron James Family Foundation tagline designed to remind us all that LeBron is still real gung-ho about material and symbolic support for the people of his hometown. Judd Apatow, Amy Schumer, Bill Hader, and Orange High School grad Vanessa Bayer (Schumer's colleague and chum in the film) are all slated to attend this evening's shindig, and they've made no bones on social media about the fact that they've agreed to come at King James' personal behest.
*If a swashbuckling, B-roll-conscious cameraman were to stand at the Regal Montrose 12's front doors and pan slowly right, he would capture, in sequence, the beige, soulless storefronts of the following block retailers: World Market, Dick's Sporting Goods, Staples, JCPenney, Levin Furniture. (#Atmosphere.)
*Most of the talk before the celebrities arrive, among the organizers from Allied Media, one of Northeast Ohio's two big PR outfits that handle Hollywood stuff, and the LBJFF, revolve around the placement of media personnel. The disposal of lingering ladders, the battery life of certain unseen GoPros, and the audio range of the speakers — from which, at 5:00 p.m., all 40 of the Top 40 will no doubt rain upon the faithful pilgrims who will have assembled (and verily, are already assembling), donned in smartest Cavs' apparel, to see with their own two Akron eyes LeBron James himself and the principal cast of the film — that's all quickly dealt with and disposed of. Much more pressing for the people holding clipboards is the fact that, as reps from more and more media outlets arrive and coagulate within the cramped press quadrant, demarcated by stanchion and red velvet rope, it's looking less and less like an adequate place to conduct anything resembling an interview.
Caitlin Summers / Scene
Vanessa!
*The Cleveland
Plain Dealer
film critic, Clint O'Connor, and the Akron
Beacon-Journal'
s pop culture guru, Rich Heldenfels, both appear cucumbrically cool when they show up just when they're supposed to. Both are old-salt newspaper guys who've suffered the indignities of digital restructuring and who rumble about inevitable departures from the industry in the way of idling engines. They're really the only two here credentialed or equipped to write about Hollywood celebrities in any capacity. They've experienced red carpets and film festivals, for example. They know how to ask setting-appropriate questions and they respect both the time and privacy of the movie stars, inherent in which respect is the acknowledgement that movie stars are also human beings. And N.B. that TV reporters don't do the opposite. They do the extreme. They tend to assume the posture of the celeb's long-lost pet, laughing as they ask variants of the same fawning questions that seem designed to kickstart conversations (or, much sadder,
friendships
) as opposed to generating usable quotes. I'm loathe to admit it, but I do this let's-be-pals sort of thing as well — the prospect of a friendship with a Hollywood celebrity is for whatever reason irresistible — and it's often much sadder when I do it, because my interviews with celebs are almost always over the phone, and there's usually a publicist butting in at intervals to remind me how many questions or minutes I've got left. I'm half O'Connor's and Heldenfels' age, but I feel a greater kinship with these dudes than I do with the TV folks or the small battery of Cleveland basketball reporters who now occupy most of the sittable real estate on the press quadrant's central dais, which dais we'd been told was for photogs.
*To elaborate a bit: Tom Withers, the Associated Press' one-man Cleveland sports' bureau, Dave McMenamin, ESPN's Cavs' correspondent, and Joe Vardon, the Northeast Ohio Media Group's LeBron James beat writer — all of whom I read and by and large enjoy — are furiously typing into their laptops' content management systems, posting God know's what at this hour. LeBron and the rest of the
Trainwreck
cast are still 45 minutes away, easy. Stephanie, the pregnant, indefatigable LBJFF media liaison tells us she'll try her best to keep us apprised of LeBron's whereabouts, and at the very least let us know when he's en route. Withers and Vardon are wearing sunglasses, and Withers is trying to track down a bottle of water. McMenamin's rocking a blue sportcoat. The movie guys (or maybe just me) gaze upon all three with horror and concern. "It's like they think it's a Starbucks,"
Scene's
photog intern Caitlin aptly notes.
*Just a bit more elaboration on this: LeBron James is of course the evening's big kahuna, though it seems odd that this is so. He was the impetus and organizing force behind the premiere, granted, (a premiere which was frantically organized, according to the LBJFF, in the span of two weeks), but he's in town three quarters of the year, and his every word is reproduced and scrutinized for local consumption by people like Joe Vardon, tasked with churning out roughly one online story per LBJ quote. Apatow, Schumer, Hader and even Vanessa Bayer, who lovingly refers to the Akron-Canton Airport as "CAK," are anomalies in our neck of the woods. And though we've seen an uptick in major studio film production — our streets have been morphed into New York City, Washington D.C., and Stuttgart, Germany at Marvel's hands alone — it's rare that actors are here for anything other than, let's face it, business trips.
*But so when Stephanie tells us that we'll only have a minute with LeBron — 2-3 questions, max — Withers, Vardon, and McMenamin literally put their heads together to devise a strategy for the scrum. "There are some things we need to get from him," Vardon says. They want his take on the Cavs' offseason moves, obviously. Withers frames a pretty good question about being the star of a basketball team but the co-star of a film in terms of "coming off the bench." They also, like the movie dudes, intend to ask a question about "what it means to him" to bring this screening to Akron. The effect in my near periphery is that of detectives preparing to interrogate a murder suspect. O'Connor, standing patiently at his post, is somewhat stunned by the basketball guys' presumptuousness. And I privately indulge in imagining the turf situation's negative: O'Connor, who's about as congenial as they come, storming into the NBA Finals' Game 6 presser and demanding answers about how on earth LeBron memorizes his lines and whether or not he considers his performance in
Trainwreck
on a par with MJ's in
Space Jam
, and does he appreciate Judd Apatow comparing him to
When Harry Met Sally's
Bruno Kirby, and what does it mean for him to lose an NBA Championship with his film debut right around the corner, and by the way who is he wearing??? — but then again, O'Connor's a pro and an unselfish guy, and he knows he'll get what he needs, especially since the press liaisons will be directing the celebs to O'Connor and Heldenfels first.
*The press quadrant is very crowded indeed.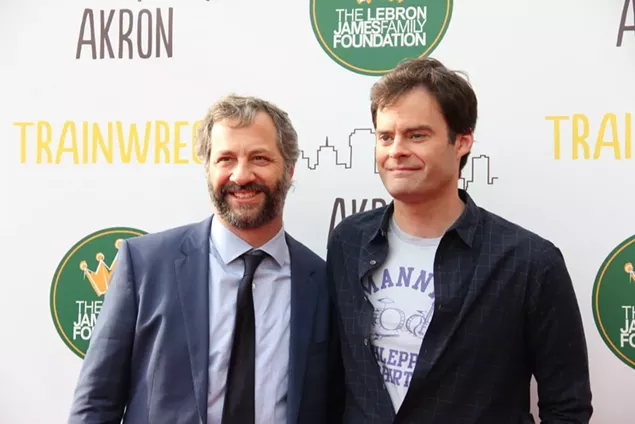 Caitlin Summers / Scene
Apatow and Hader
*The Allied Media people, in preparation for the celebs' imminent arrival, have begun taping yellow sheets of paper with the names of our media affiliations to the asphalt, this to signify where we're supposed to stand. The pie-in-the-sky idea was initially that each celeb would process down the rope-and-stanchion perimeter where the print journalists are stationed and field a couple of questions from each. That plan is scrapped when the white sports cars and black SUVs start arriving in the distance and the ungainly cloud pattern of audio recorders, notepads, pens and nimbic pit stains condense into a tiered and violent, but as yet dormant, hurricane. O'Connor and Heldenfels represent its eye.
*Gloria James arrives in a white Porsche. After a wave to the crowd — one of whom shouts "Thank you for everything!" — she is ushered into the Regal Montrose 12 by two of the LBJFF team.
*Cavs' GM David Griffin and lately signed backup point guard Mo Williams arrive to whoops and cheers. They process down the central red carpet on foot, are handed their VIP lanyards and disappear.
*Here might be the time to mention that Bill Hader and Amy Schumer both seem incredibly generous and down-to-earth, as far as celebrities go. When Hader arrives, in jeans and an unbuttoned button-down, he sprints out of the SUV and runs the length of the fans' front row, slapping high-fives and signing autographs. During his press interview, after a few softball questions about coming to Akron and working with LeBron, he politely asks if we'd mind letting him get back to the fans so he can sign more. Schumer, meantime, is taking selfies with what looks like anyone who asks. When a teenage girl's camera doesn't flash properly, Schumer waits until the girl fixes it and takes another photo, with a new funny face. This may seem inconsequential but it's a touching thing to see up close.
*The celebrity interviews are about what you'd expect, which is to say they are friendly but necessarily superficial. Hader is from Tulsa and says the people of Akron remind him of home. Schumer has family in Cincinnati and says she loves coming back to Ohio. She says she enjoyed the process of writing the film, which went through about 50 drafts and then was largely improvised. Apatow says it was great to direct a film for which he didn't also write the script (a first for him). Directing LeBron was easy, he says. LeBron, to Tom Withers' co-star question, says without discernible inflection that he is "a team player."
*LeBron's our first group interview, and after his exit, the basketball reporters disengage. They do manage to ask both Apatow and Hader what they ordered at Swenson's (Get this: Hader ordered a banana shake) but it's clear they'll have spent the better part of three hours down here for a 90-second exchange. Which in some respects I must commend.
*No one asks Amy Schumer or Vanessa Bayer what or whom they're wearing. But if you must know, Schumer's in a tangerine dress and Bayer's got some sort of off-white belted jumpsuit, about which Schumer gives her grief in the pre-screening banter later on. With respect to the names of their designers, I'll say only that no one gives a shit.
*Vanessa Bayer is accompanied by her father and introduces him to the press. She admits, when I ask her to confim, that she won the "Most likely to succeed" award in her Orange High School senior year yearbook, but appends that she also won "Best personality."
*Clint O'Connor's lead on Cleveland.com at 8:56 p.m.: "Another star-studded Hollywood movie premiere, another parking lot in Akron."
*Joe Vardon's lead on Cleveland.com at 11:12 p.m.: "The Cavaliers have LeBron James' signature and his approval on their offseason moves to date, but also a demand to continue adding to a roster that won two games in the NBA Finals."
*
My short review of the film
.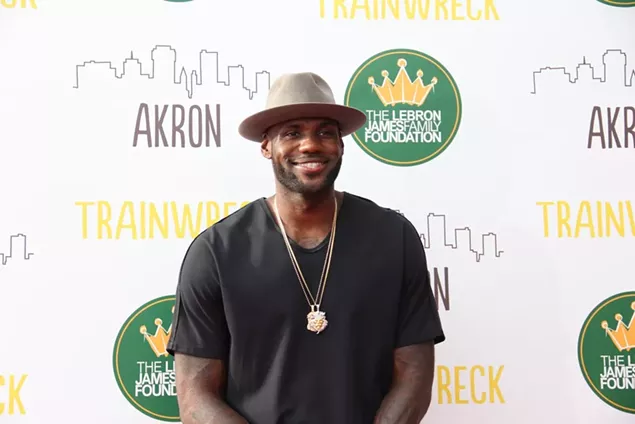 Caitlin Summers / Scene
Unidentified man.
*Two final notes: The first is that
Trainwreck
is screening this evening on not one but two screens at the Regal Montrose 12, indicated on our lanyards, for reasons unknown, as "3" and "4." Media personnel are in "3" — again, I don't know if this is the theater number or what, but the obvious question is Why not just "1" and "2" — and we're consigned to the frontmost two rows. Only a few of the media even stay for the screening, and this bums me out in a way I can't quite describe. I know Clint O'Connor has already seen the film (because I was there with him at the Wednesday press screening) but I don't see any of the basketball guys (with the exception of
Scene's
eminently mustachioed basketball writer Chris Parker, who's attending as a guest, not a reporter) or any of the TV people. I sympathize with those members of the press who may have promised family members or significant others that they'd wait to see the movie with them, and can understand that it's a Friday evening, and other plans have probably been made. But for me, the entire pre-screening press throng is now cast in a weird and much less satisfying light — it seems like feasting on the Oscars' red carpet stuff and then skipping the awards.
*Theater number 3 must be way more legit and VIPish than number 4, because awaiting at our seats are individual bags of popcorn and Peanut M&Ms. All the yellow M&Ms boxes bear a sticker of LeBron on their backsides with the bubble quote "There's no place like home!" springing forth from his laughing mouth. The peasantry in #4 are welcome to gratis popcorn outside the theater, and everyone is encouraged to snag a perspiring jumbo Sprite on their way in, but the popcorn at the seat is some next-level convenience. Also contributing to the extra-VIPness in #3 is the fact that the celebs themselves are watching with us, or above us, as it were, and introduce the film with some extemporized banter, expressing gratitude to LeBron for organizing the event.
*What's notable here, though — and this is the last thing — is that all the VIPs invited by LeBron or his foundation, however much they might love LeBron or the city of Akron, aren't necessarily movie fans. The energy in the theater frankly sucks. When Hader and Schumer chat before the film, they even remark on the lethargy of the crowd — "This feels very Sunday brunch energy," Schumer says. "We need more Saturday…" "We need you drunk," says Hader. "Just really drunk." And LeBron chuckles as they speak, holding his fist to his mouth in the same way he might blow into it for warmth before a free throw. LeBron is clearly out of his element, comedically, during the pre-show riffing. He does well in the film, and Hader, having worked with megastars on SNL, is a strong scene partner. But here, Hader and Schumer and even Bayer are making jokes in the second-nature way of veteran stand-ups and improvisers — Hader lays into Chris Parker for the extravagance of his mustache — and LeBron is silent through it all. He can't get a word in edgewise, and it's unclear if he wants to or not.
*When the lights go down, LeBron escorts Schumer to her seat, taking her by the arm as they walk up the darkened auditorium's stairs and imploring her to watch her step. "You're such a gentleman
,
" exclaims Schumer.