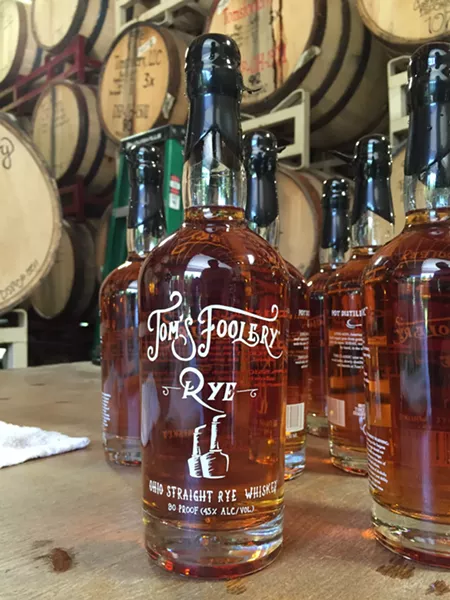 Can you hear that?
That is the sound of gleeful cheers from Ohio whiskey drinkers, who already are lining up (figuratively, anyhow) to buy the state's first straight rye. That it is coming from Northeast Ohio is no surprise to fans of Tom Herbruck and his growing portfolio of Tom's Foolery craft spirits.
Up until now, we have been sipping on Herbruck's distinctive apple brandy, or applejack, and his straight bourbon, all of it distilled in copper pot stills in place of column stills and aged for at least two years in new charred oak barrels.
New to the lineup is Tom's Foolery Ohio Straight Rye, the first for Herbruck, his wife and business partner Lianne, and fulltime brewer Erik Rothschiller. And first for Ohio. As with the bourbon, the rye was distilled in the pot still and has been aging for at least two years in wood. By law, the mash bills for the whiskey must be at least 51 percent rye. Herbruck's runs as high as 100 percent, but mostly lands in the 90-percent range.
This first release – Batch One – is comprised of 10 53-gallon barrels. That should come out to about 2,400 bottles of 90-proof rye. The official release date is August 1, but it could take a couple weeks for the product to make it your local spirits provider.

Because of its main ingredient – rye over bourbon's corn – the whiskey starts with a more distinctive character. But when combined with Herbruck's old-fashioned techniques and equipment, and his painstaking skill and care, the result is a world-class product sure to place Northeast Ohio on the craft spirits map.

"You'll first be struck by a very strong nose – it's really aromatic with a fruity and rich bread-like aroma," Herbruck says of his rye. "In the mouth, it's probably going to be the most flavorful whiskey that many people will have ever tried."

Unlike most of the big boys, Herbruck elects not to filter his hooch through activated charcoal, which makes the final product "smoother," while also stripping away much of its more unique characteristics.


"Rye tends to mature a little bit faster than bourbon, so even though it's only two and a half years old, it tastes older," adds Herbruck.
These are flush times for Tom's Foolery. After five years of diligent brewing, distilling and aging, Herbruck and his team have found themselves with a rackhouse full to the rafters with maturing whiskey, which means that going forward there should be more consistent availability of applejack, bourbon and rye.
"We have a nice inventory of applejack, bourbon and rye built up in the rackhouse, which is pretty much full," he reports. "We are having to sell some whiskey to make room for more products."
Because all of the products benefit from more time on wood, each batch will grow a little older and smoother.
"We're always holding some back from every batch," he says. "Every release we'd like to be a little bit older each time."