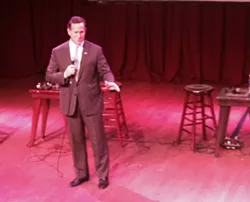 Sam Allard / Scene
Rick Santorum, Steelers fan.
Two-thirds of the way through a 15-minute speech at the American Conservaitve Union Debate Watch Party Thursday evening, Rick Santorum stumbled upon some divisive territory.
"I know we're here in Cleveland," the happy-hour debate participant and former Pennsylvania Senator told the crowd of diehard conservatives at the House of Blues. "And as a Steeler fan I know Cleveland doesn't know anything about offense or defense—"
The crowd, which had been applauding at intervals, immediately turned on him: Boooooooooooooooooooooooooo!!!! Boooo!!!!!!!!!!!! Booooo!!!!!!!
Santorum, undeterred, doubled down.
"Hey look....we used to—"
"Did he just say that?" Inquired an organizer into a microphone.
"Hey look, we used to really hate the Browns in Pittsburgh," Santorum went on. "Now we just feel sorry for them."
BOOOOOOOOOOOOOOOO! BOO!!!!!! Boooooo!!! Booooooooo!!!!!!!
"Is he trying to piss off Cleveland?" The mic'd man wondered aloud.
Santorum tried to rescue himself: "Just for the record, I have to do that because I'm a Penn State grad, and Ohio State kicks our butt every single year, so I had to toss it back somehow."
But the damage was done. In a Republican field this crowded, supporting the wrong sports franchise is enough to invalidate a candidacy.
Santorum followed remarks by Carly Fiorina, the consensus winner of the Fox News undercard. She reiterated her conservatism v. progressivism closing statement from the debate and described the Planned Parenthood videos in graphic detail to win the crowd over.
Santorum, for his part, kicked off his remarks with a mini stand-up routine — "Why did George Washington cross the Delaware?" He supposedly asked a gaggle of of grade schoolers. "Because Chris Christie closed the bridge," one of them supposedly replied. He went on to trumpet his experience, his conservative voting record in a Blue state, and his integrity.
But after his Browns jabs, at least in the eyes of Cleveland's thin-skinned suburban electorate, Santorum may as well be Roethlisberger.