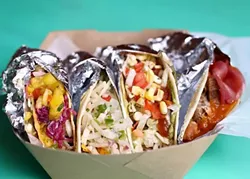 We've been singing the praises of the fast casual taqueria Barrio since it opened in Tremont a few years back and then expanded to Lakewood, downtown, and Progressive Field. Locals who frequent the popular eatery know and love its build-your-own tacos, house margaritas, and rock bottom prices.
But Barrio's fan-base is extending beyond the Cuyahoga County boarders, most recently grabbing accolades from national pub Gayot, which named Barrio one of the 10 best taco stands in the country.
Here's a snippet from Gayot's recent review of the restaurant:
The beauty of Barrio Lakewood lies in its blissful simplicity. Aside from a handful of starters and sides, tacos take center stage. Diners are asked to order via pencil and paper —- a smart move given the infinite number of possible combinations. Every aspect of your taco is customizable: hard or soft, corn or flour, braised beef or spicy, house-made chorizo, and the list goes on. There are a dozen salsas and sauces from which to choose, including a chipotle crema, habanero mango, and fiery Barrio Secret.
There you have it. Congrats, Barrio!