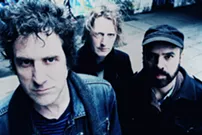 Few people know the origins of the term shoegazer better than Swervedriver singer-guitarist Adam Franklin. After all, during its heyday, the Oxford, England band was practically the torchbearer for the alternative rock subgenre that became popular in the UK in the late '80s and early '90s.
"It wasn't in the lexicon when we first formed," explains Franklin, who formed the band with guitarist Jimmy Hartridge in 1989, during a transatlantic called from his home in England. "It didn't occur until about 1991. It was a [British band] Moose show, and Russell Yeats was the singer. Andy Ross was reviewing the show. He later formed Food Records, which is the label that had Blur. We knew him because he married Swervedriver's original bassist's ex-girlfriend. He coined that phrase. Years later, I was in the pub with Russell. I wanted to know what kind of shoes he was wearing. He was wearing creepers, which is the classic rock 'n' roll shoe they wore in the '60s. It's funny now that this phrase is worldwide. There's even a shoegazer guitar pedal. I sent a link to Andy and said, 'I bet you never knew this term would stick around."
When Swervedriver first came together, Franklin, who had played with Hartridge in the band Shake Appeal, says he had a clear idea of how he wanted Swervedriver to differ from that project.
"We were doing Stooges/MC5 type of thing," he says. "There was exciting guitar music in both the U.S. and the UK with Husker Du and Sonic Youth in the States and My Bloody Valentine and Spacemen 3 in the UK. We regrouped and I became the singer."
He says there were plenty of bands in Oxford at the time, but there wasn't a vibrant scene.
"There wasn't a band known on a national scale, let alone an international scale," he says. "There were no bands touring the UK or touring the States. That all changed in the '90s. Ride came along and we came along, and there was Radiohead and Oxford was on the map."
During its initial ten-year run, the band issued four studio albums and a slew of singles and EPs. Its debut, 1991's
Raise
, features a sonic wall of guitars; it holds up as one of one of the most innovative albums of the '90s.
After splitting in 1998, the band reunited in 2008 and played Coachella. It's been active ever since and has embarked on a handful of tours for which it played
Raise
in its entirety. It comes to the Grog Shop on Sept. 9.
"I think the band had never officially announced that it split," says Franklin. "It was brought up online and people were wondering if we were going to do anything. We had been disenchanted with it and put it on hold. We swapped messages and one day Jimmy called me from England. I was in New York at the time. He said everyone was up for it. We played Coachella, which is a rite of passage for bands that get back together."
The group began writing songs for a new album in 2013. While Franklin says he wasn't as interested in putting out new material as the other members, they won him over.
"I had been releasing solo albums in the interim," he says. "They wanted to do some new stuff just to make it more interesting for ourselves. When we made that decision, there were a few false starts. From my point of view, it was going back to the source and the sort of stuff we were inspired by when we first got together rather than taking from influence of what's gone in the 15 years. We started listening to the old Sonic Youth albums and honing in on that as an initial starting point."
They started the recording process for
I Wasn't Born to Lose You
, their first studio release in 17 years, in Australia, where they were on tour, and then finished in the UK at Konk Studios, the studio founded by the Kinks.
"There wasn't too much thinking about it," says Franklin when asked about the recording process. "We just knocked it out."
Right from the opening number, "Autodidact," it's clear the band has sharpened the pop hooks of its music while retaining the noisy guitars for which it's known.
"I think we always looked at it from that point of view — pop songs that are mangled after the fact," says Franklin. "Some of the demos were recorded at the end of the night on an acoustic guitar and sound nothing like a Swervedriver song. As soon as it gets put into the hands of those four members, it takes on a new sound. It is the same guys in the band, or mostly the same, so it was never going to sound massively different from how it sounded before."
The heavy guitars in a song like "Red Queen Arms Race" suggest Queens of the Stone Age or any number of stoner rock bands.
"It's definitely stoner rock," says Franklin when asked about the song. "It's the influence of [the indie rock act] Dead Meadow specifically. The working title was 'Stoner' originally. The lyrics are about the government and greed and all that stuff. It's about the working class man being kept down. It's about how people who are lower in the social chain are viewed as parasites."
Given that Franklin has a successful solo career and is considering rebooting the spacefolk project Toshack Highway, how much of a priority is Swervedriver?
"It's the main priority right now," he says. "We are thinking about where else we can take it. There's a couple of other things on the backburner. It's good to have different things going on and not put your eggs in one basket but Swervedriver is creatively peaking. The first new song that sounded like a proper Swervedriver song was 'Deep Wound.' From then on, the ideas flowed and the ideas came along in sets of two and three. We're really enjoying it."
Swervedriver, Dearly Beloved, 8:30 p.m. Wednesday, Sept. 9, Grog Shop, 2785 Euclid Heights Blvd., Cleveland Heights, 216-321-5588. Tickets: $15 ADV, $18 DOS, grogshop.gs.