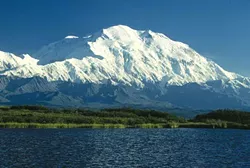 WIKIMEDIA COMMONS
Denali
President Obama will announce today the federal government's official adoption of "Denali" as the name of Mount McKinley — the highest peak in North America. Alaska Natives have referred to the mountain as Denali for a very long time, making this announcement more of a "correction" than a "renaming."
Nonetheless, Sen. Rob Portman of Ohio is upset about the whole thing.
He took to Twitter this morning to decry the news
.
I'm disappointed with the Administration's decision to change the name of Mt. McKinley in Alaska (1/5)

Pres McKinley was a proud Ohioan, and the mountain was named after him, as a way to remember his rich legacy after his assassination (2/5)

The naming of the mountain has been a topic of discussion in Congress for many years (3/5)

This decision by the Administration is yet another example of the President going around Congress (4/5)

I urge Admin 2 work w/ me 2 find alternative ways 2 preserve McKinley's legacy somewhere else in the natl park that once bore his name (5/5)
As the story goes, according to the White House, "[i]n 1896, a prospector emerged from exploring the mountains of central Alaska and received news that William McKinley had been nominated as a candidate for President of the United States. In a show of support, the prospector declared the tallest peak of the Alaska Range as 'Mt. McKinley'—and the name stuck."
Ohio congressional representatives routinely file bills to maintain the Mount McKinley name.
For what it's worth, Alaska Senators Lisa Murkowski and Dan Sullivan support the name change. "There's a lot of things in Ohio that are already named after McKinley. This is no affront to our former president; this is all about ensuring that respect for the land and respect for the native people of the region is afforded," Murkowski
told the Los Angeles Times earlier this year
.
The announcement from Obama today will open a three-day visit to Alaska, which will include a hike on a melting glacier near Seward and a visit with fisherman in the remote coastal village of Dillingham. The president hopes to showcase the effects of climate change.