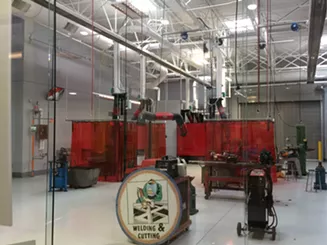 ERIC SANDY / SCENE
The high school has 11 large workshop bays that will zero in on particular trades, like welding.
There's something enticing about that "new school" smell, what with all the empty classrooms, desks and lockers awaiting the bustle of education. The new
Max Hayes High School
opens for business today, and the public got a chance to look at the building yesterday during an open house-style event.
The $48-million school is among the crown jewels of the Cleveland Metropolitan School District's construction plan, which began more than a decade ago. The building, an almost entirely one-floor affair planted on a football field-sized footprint, replaces the outdated vocational high school on Detroit and West 45th.
Big, gleaming workshop bays line the main hallway. In those rooms, students will dive into particular trades, like welding, plumbing, wiring, auto repair, etc. In fact, the whole building very much has a "workshop" feel to it, with exposed pipes and wires filling out the aesthetics of the hallways, just above the newly minted rows of lockers.
Practically speaking, the school's layout is a step in the right direction. (Students and teachers had to send cars up an elevator to the second floor for work in the old Max Hayes building.) With a graduation rate that leaves something to be desired districtwide, this high school is expected to galvanize the westside student base and push future grads closer to applicable job skills.
Max Hayes High School — located on West 65th Street just south of the I-90 overpass — is joined by John Marshall High School ($47 million total cost) and the Cleveland School of the Arts ($40 million total cost) as the trio of new high schools opening this fall.