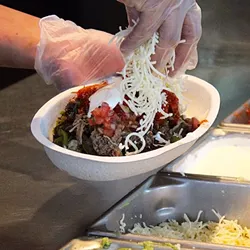 If you were as devastated as we were last January when news broke that Chipotle was suspending carnitas from its menu after a pork supplier violated the burrito-mogul's welfare standards, then we've got news for you.
The fast-casual eatery announced Monday that carnitas is again available in 90 percent of its markets, thanks to a new partnership with U.K-based carrier Karo.
But before you run out to that Chipotle on Euclid Ave., be warned that Cleveland hasn't yet been resupplied.
The Forest City, along with Atlanta and several regions throughout the Carolinas will be pork-free for a few more weeks.
"By November, 11 months after 'The Great Carnitas Shortage of 2015' began, the popular fast-casual restaurant chain expects all its restaurants to be serving the slow-cooked pork known as carnitas again,"
Quartz reported today.


Until then, hungry locals will have to get their pork fix through alternative means, like
Chef Sawyer's roasted pig head
.