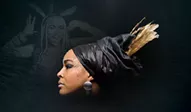 Courtesy of Cleveland School of the Arts
Navasha Daya, a soul singer who graduated with the Cleveland School of Arts class of 1993, returns to town on Oct. 24 to headline a benefit and grand opening celebration for the Cleveland School of the Arts, a specialty arts school in the Cleveland Metropolitan School District for students in grades 7 to 12.
Daya began her career with the indie soul act Fertile Ground and has also performed with acts such as India Arie, Jill Scott, Erykah Badu, Sweet Honey and the Rock and Common.
Mojo Magazine
calls her "an astral soul goddess," while the
Baltimore Sun
describes her as "a dynamic performer who feeds off the exchange of energy between herself and the audience."
For the event, the school will transform from a place of learning into a "festival style environment with performances and artworks throughout the halls, classrooms, and even the elevators of the building." Performances and visual arts exhibitions will include the work of current students and alumni dating back to 1984, the year the school's first class graduated.
"This event is all about young people who are the future leaders of our city," says Christine Bluso Kane, FCSA Executive Director, in a press release. "There is so much research that shows the importance of arts education in the development of young people who gain the creative and critical thinking skills to push us to the next level. We are asking all supporters of arts, education, and culture to join us in celebrating this next generation of our city's leadership."
Doors open for VIP guests at 6:30 p.m. and for general audiences at 7:30 p.m. To purchase tickets visit
clevelandschoolofthearts.org
or call Ruby Watkins in the FCSA office at 216.838.9025. VIP tickets are $250 and general admission is $100.