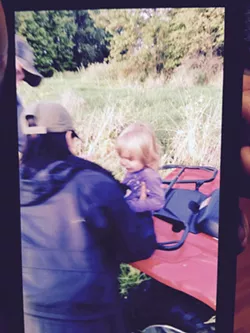 Courtesy of Trumbull County Deputy Chief Ernie Cook via WKBN and Fox 8
In case you missed the hoopla on social media this weekend, a toddler was reported missing from her grandparents' house on Friday in Trumbull County. After an intensive search, two-year-old Rainn Peterson was found on Sunday evening — alive.
Family of Peterson, as well as dozens of volunteers, members of law enforcement, and cyber "friends" who've been following the story since it broke last week, have issued a collective sigh of relief after hearing that a member of the search party spotted the toddler as he was driving a four-wheeler through a field, less than a mile from her grandparents' home.
"I found baby Rainn and she's alive!" were the first words out of the rescuer's mouth when he called the 911 dispatcher. A team of paramedics and police were deployed to the child's location near Peck Leach Road and State Route 45 and later took her to an area hospital. As of Sunday evening she was listed in stable condition.
As for the rescuer, well, he's being hailed as a hero. Fox 8 has the raw 911 call audio from the moment of the discovery —
give it a listen right here
.