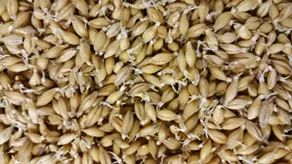 It's no secret that in recent years northeast Ohio has become a destination for imbibers with new breweries, wineries, meaderies, and even a few cider houses cropping up each month, many of which tout their products as "Cleveland made." But since Prohibition, the Forest City hasn't offered local beverage producers a single malt house from which to purchase one of their primary ingredients — until now.
Cleveland writer and
Scene
contributor Lee Chilcote reports today
for Crain's
that a father/son duo is teaming up to launch
Haus Malts
, the first malt house in Cuyahoga County in decades.
He writes:
In April, the father-son team purchased the building at 6601 Carnegie Ave. and set about converting it into Haus Malts, Cleveland's first micro malt house since Prohibition. The 10,000-square-foot facility will start producing its first test batches in the next month or so. [23-year-old] Andrew Martahus claims there's plenty of interest from a largely untapped market. While many craft brewers tout the fact that their beer is brewed locally, right now, one of the main ingredients used to make beer is shipped from out of state. Haus Malts aims to change that.

"There are 1.1 million barrels of beer being produced from 76 breweries in Ohio," he said. "It takes us about 50 pounds of malt per barrel of beer. So that means there's 50 million pounds of malt being used by craft breweries in Ohio. None of it's from here."
Haus Malts plans to cater primarily to potential customers in the Cleveland area, including Market Garden Brewery, Platform Brewing, and Great Lakes Brewing Company. However, Martahus told Crain's he's already received inquiries from breweries around the state.