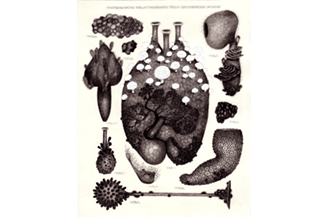 ARTWORK BY AMBER STUCKE, COURTESY 2731 PROSPECT
The second round of exhibitions at 2731 Prospect features Photographic Works by Cleveland-based Joseph Minek and Cincinnati-based Amber Stucke's Symbiosis State. Both artists create black-and-white imagery through their materials; Minek's traditional darkroom materials and Stucke's graphite drawings. Through their use of these materials, the artists' works convey both ideas and emotions. Minek's visual aesthetics are reminiscent of modernist abstraction, and Stucke's intricately detailed drawings resemble fantastical biomedical illustrations.
Joseph Minek's work continuously explores the possibilities of photographic materials by creating work without the use of a camera. His creative process is based on experimentation with photographic paper and chemicals in the darkroom.
"Joseph Minek lives in Cleveland and teaches at Cleveland Institute of Art," explains 2731 Director Lauren Davies. "He's produced an incredible new body of photographic work that is created in a darkroom without the use of a camera. Abstract, experimental and visually exciting."
Minek earned his MFA in Photography & Film at Virginia Commonwealth University and a BFA from Cleveland Institute of Art; where he now serves as adjunct faculty in the Photography and Video department. His work has been exhibited nationally at venues such as Photoshop Gallery, Capital One Headquarters, as well as our own Cleveland Museum of Art.
"I usually just tell people I sling chemicals onto paper, but there is much more to it than that," Minek says. "I've been working with photographic materials the 'wrong way' for over five years, and everyday I'm in the studio I learn something new about their reactions. It's given me an appreciation for how these items can actually produce a photographic image."
Stucke's interdisciplinary roles as an artist, writer and naturalist influence her interest in symbiosis. She utilizes her diverse background to create drawings, prints, artist books and interactive installations. Her work explores the connection and dialogue between art, science and imagination. Stucke earned her MFA from California College of the Arts in San Francisco, before moving to Cincinnati. She received additional training at the School of the Art Institute of Chicago and Goldsmith's College in London. Her work is represented by Electric Works Gallery in San Francisco.
"Amber Stucke is from the Bay Area, and we have worked together before," Davies says. "She recently relocated to Cincinnati, and I'm thrilled to have her work here at 2731 Prospect. She does drawings about plant symbiosis. Scientific, smart and elegant."
The exhibitions open with a reception from 6 to 9 p.m. this Friday, Oct. 30. Both artists will discuss their work during separate artist talks – Joseph Minek at 2 p.m. Saturday, Nov. 14, and Amber Stucke at 2 p.m. on Saturday, Dec. 5. Following Stucke's presentation, the gallery will host a closing reception. The exhibition and all related events are free.
(2731 Prospect) 2731 Prospect Ave., 888-273-1881, 2731prospect.com