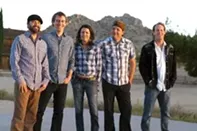 Courtesy of Dreamspider Publicity
The members of Donna the Buffalo, the terrific roots rock band that plays a mix of bluegrass, Cajun/zydeco, rock, folk, reggae and country, originally met activist Ben Cohen (of Ben and Jerry's fame) years ago. They brought him to their Virginia Key GrassRoots Festival of Music and Dance outside of Miami and he did a presentation there. A connection was established.
"We liked his message," says singer-multi-instrumentalist Tara Nevins as she drives to upstate New York to meet with the band for the start of "The Stampede," a tour designed to raise awareness about the inappropriate use of corporate money in politics that pairs the band with Cohen and singer-songwriter Peter Rowan. The tour stops at the Kent Stage on Thursday. "[Cohen] has been trying to spread the word. We thought it would be an awesome thing to do and we could do a tour with him. We want to play a show and spread the word. Ben thought it was a good idea too. It's been months and months of planning. It's very timely, of course, with this election coming up. [The tour's message is that] corporations are not people and money is not free speech. It used to be that a private party could donate no more than $2400 to a candidate and a corporation wasn't allowed to. That all changed in 2010. Now, there's no cap. It's gotten out of hand. If you are a member of the elite, then you gain unfair access and influence which leaves the people's voices behind. In true democratic form, it's unfair. The amendment needs to be changed."
The tour also pairs the band with Rowan, a veteran singer-songwriter with whom the group toured some 15 years ago.
"Peter is a legend," says Nevins. "He's an amazing talent as far as his singing and playing goes. He's written some of the most timeless bluegrass songs. It's a big deal. He also is a very cool guy. He's a free spirit. He's an open vessel. Cool things come through. We've toured with him before and have a great time playing music together. We're on the same page. He's an enjoyable person to be around. He's an inspiring guy. He's a friend at this point."
Bluegrass wasn't that popular when Donna started 25 years ago. Thanks to the popularity of bands like the Avett Brothers and Yonder Mountain String Band, it's seen a resurgence in popularity.
"One of the reasons for the spread in popularity is because of the rise of the festivals," says Nevins. "When we started 25 years ago, there is no comparison. It used to be that you go to a few festivals in the summer. Now there are festivals every weekend of the summer. It's a festival world and because of that people are exposed to more types of music. These festivals used to be very homogenized. A bluegrass festival only had bluegrass. A folk festival only had folk musicians. A rock festival only had rock bands. Now, festivals have all the genres. You hear bluegrass, old-time, jazz, country. It's all under the same title. All kinds of music are acceptable to people. Bluegrass fans have taken it to another place. It's been evolving. You also have social media spreading all types of music. At a certain point, people do get tired of what they hear on the radio."