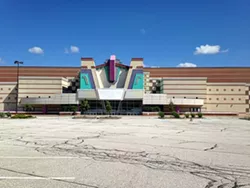 CWCapital Asset Management placed a $6.6-million bid on Severance Town Center during a county sheriff's sale last month. The group, now actively servicing the mall's $43 million in debt, was the sole bidder.
The transaction must be approved by a judge. Prior to the sheriff's sale,
we wrote
:
Severance, which opened in 1963 as Ohio's first indoor mall, was reinvented as an outward-facing shopping center in the late '90s but could be approaching "dead mall" status just 15 years later, a sort of life expectancy unseen in the architecture world outside of sports stadiums and arenas. Walmart's departure two years ago for the greener grass at Oakwood Commons in South Euclid sent the mall into a downward spiral. Severance is now 35 percent vacant and in foreclosure.

"The truth about Severance is there are several retailers there that are doing well, and there are retailers that are not doing well at all," Keith Hamulak, vice president with C.B. Richard Ellis, the court-appointed property manager for Severance, told us. He cited Home Depot and Dave's as success stories on the property. "But the exodus of Walmart dumped 120,000 square feet back into the market and the back side of the mall needs to be repurposed."
Even if the sale were to be approved (which is likely enough), it's unclear what the future holds for ol' Severance Town Center.