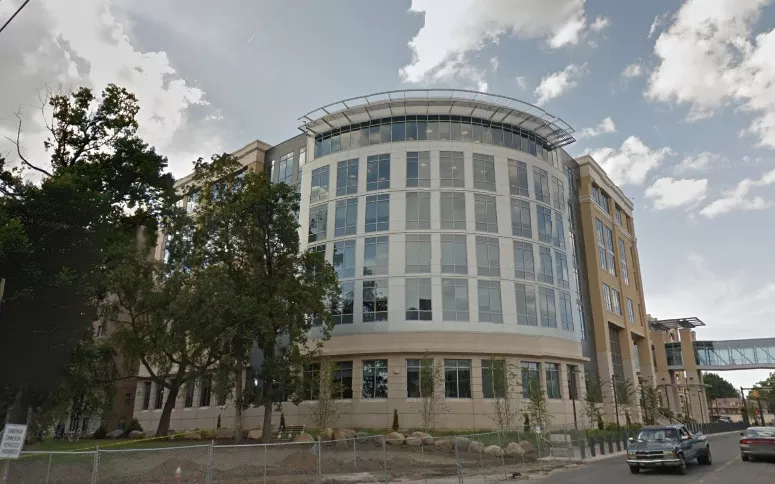 According to a lawsuit that recently landed in federal court, staff at the Cleveland Veterans Affairs Hospital at Wade Park were subject to repeated gross overtures and outright sexual assault from a co-worker.
The suit, filed by a woman we'll call "AR" (although she's named in the complaint, Scene doesn't ID the victims of sexual assault), describes a hellish cycle of on-the-clock abuse, harassment and assault — all while administrators allegedly ignored the situation.
The legal filing IDs AR as a Licensed Practical Nurse who worked at the VA Medical Center in Wade Park. She was with the hospital from November 2011 to November 2014. Trouble began, however, in summer 2012.

According to the complaint, that's when AR was forced to "endure extreme and outrageous verbal and physical sexual harassment and assault promulgated by co-worker MD Garrett." It started when Garrett walked AR to her car "under the premise that she would not have to walk alone." The male employees then tried to kiss his co-worker. AR said no. Garrett responded that he would have to go home "and masturbate then to the vision of her."

That kind of gives you a sneak-peak at the harassment to come. According to the complaint, Garrett began parking his car next to AR and following her to her car daily. He also began boxing her ears with a whole litany of gutter-ball utterances. Per the complaint:

"I want to Fuck you"
"I want to stick my big dick in your pussy"
"Trust me. I know how to make you smile.''
"I love you and you will say yes one of these days and we will be together so stop fighting it."
"I want to cum all over you."
"Just let me run my hard dick on you."
"You don' t ever need to do anything, just let me cum on you. we can go into the supply closet no one will know."
"Your nipples are so hard they excite me."
"You know we are going to be together."
"I want to straddle your lap."
"I have to go home and masturbate after seeing you."

The harassment ballooned from words to outright sexual assault. Again, according to the complaint, Garrett was responsible for:
Repeatedly grabbing [AR], mauling her, touching her breast, touching her butt,
rubbing his penis on her, and making licking sounds while physically accosting her.

Grabbing [AR] from behind and physically forcing her into a linen closet on a
number of occasions, forcing himself on [AR], and forcing his tongue in her
mouth, while restraining her from getting to the door. [AR] felt so ashamed and
dirty.

MD cornered [AR] in a conference room, licked his fingers, and forced them on
her groin area, and, petrified, she immediately slapped his hand away.

MD pressed up against [AR] telling her he knew she "wanted fucked". [AR]
said " STOP!!~ ', but MD just laughed and said ·•you say no when you really mean
yes''.

Assaulting [AR] in patients' rooms, grabbing her, pushing her, pressing against
her, trying to forcibly kiss her. [AR] would push him to try to get him away and
told him to ' 'STOP!!''. MD would laugh and tell her "yes you do".

MD grabbed [AR]' s hand while she was charting and put it on his aroused penis and told [AR] "this is what you do to me."

MD regularly "brushed" against [AR], including against her breast, and told her
''your nipples feel good".

MD grabbed [AR]'s butt when she wasn't looking on a regular basis.

MD attempted to straddle [AR] when she was at a computer station.

The abuse continued despite AR's protests. The abuser allegedly told his victim he had a conceal carry permit and kept his weapon in his car, terrifying AR further. But when AR took reports of her abuse to the VA administration, she was ignored.
"[AR] requested, on multiple occasions, a transfer to another VA location," the complaint states. "The VA denied [AR]'s requests for a transfer."
Also: "[AR] reported these conditions through the proper channels within the VA and did not receive a fair investigation of her report; her allegations were dismissed as false; and she was ultimately fired for pre-textual reasons. The VA was aware of the sexually harassing and discriminatory conduct and failed to take appropriate corrective action with malicious intent and reckless indifference."
In fact, AR alleges that VA administrators retaliated against her for filing complaints.
AR's attorney, Pamela Kurt, tells
Scene
there was at least one other female nurse subject to harassment from Garrett, as well as "other victims of discrimination as well not victimized by Garrett."
Cuyahoga County Common Pleas Court records indicate MD Garrett was indicted in July 2013 on three counts of sexual imposition, two counts of gross sexual imposition, and one count of unlawful restraint – charges Kurt says are related to Garrett's assault of her client. Court records show Garrett pleaded guilty to the three sexual imposition charges and the unlawful restraint charge in exchange for two years probation. He's now a tier one-sex offender.
AR's federal suit was filed against VA top man Robert A. McDonald. It dings the government-funded hospital for sexual harassment, a hostile work environment, gender discrimination, retaliation, negligent hiring, retention and supervisor, assault, battery, and intentional infliction of emotional distress.
When reached for comment, Ashley Trimble, a public affairs specialist with the Cleveland VA, told us she couldn't comment on pending litigation. She did provide the following big-picture statement:

The Cleveland VA Medical Center takes the safety of our Veterans and staff very seriously. Allegations of serious misconduct, including sexual harassment, are referred to VA Police and the VA Office of the Inspector General immediately for investigation. In addition, all VA employees are required to complete annual Workplace Sexual Harassment Training, which details VA policy and reporting procedures.