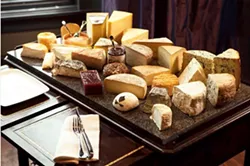 Enthusiastic fans of Brandon Chrostowski's work as "the Cheese Guy" at L'Albatros (where he also happened to be GM) were thrilled to spot a heavily laden fromage cart parked in the dining room of
EDWINS Leadership & Restaurant Institute
(13101 Shaker Sq., 216-921-3333) when that delicious venture debuted in November 2013. High-end cheese service was a skill and obsession that Chrostowski picked up while working with chef Terrance Brennan at Picholine in New York, home to America's first European-style cheese cart.
But the EDWINS founder did not stop rolling with the cheese cart. Order the Bananas Foster for dessert and a server will wheel over a different rig from which that classic flambéed treat is prepared. It's an exhilarating show when that booze goes boom, adding an element of theatre to an already noteworthy dining experience.
Of course, that fact isn't lost on Chrostowski, who says that he's been enamored with tableside preparations since he was 15, when his uncle ordered a Caesar salad at a dimly lit Detroit restaurant.
"Dining is all about the experience and the more majestic one can make it the more memorable," he explains. "Carts allow a diner to be engaged with the restaurant and the staff. Plus, tableside shows are intimate, sexy and when you flambé there is no better way to show off your date."
That might be why the consummate showman hasn't stopped rolling with just a cheese and dessert cart. In the intervening years EDWINS has added carts dedicated to duck service, wine service, cocktail service and even a tableside burger preparation. What's more, these presentations aren't merely for show; they are elaborate methods of cooking that result in exalted fare.
Take that duck, for example. A classic plucked from 19th-century France, the dish utilizes a medieval looking device that compresses the roasted and carved duck carcass with such force that it extracts every last bit of juice, which is turned into a butter- and brandy-rich sauce for the breast and leg meat. From behind the burger cart, another server hand-grinds beef using a vintage 1950's grinder, while preparing a truffle-rich sauce Diane while rapt diners look on. From a soon-to-be-unveiled cocktail cart, another staffer will whip up Old Fashioneds, Mint Juleps and the like in the very same manner.
These undertakings would be unnerving and stressful for even the most polished service professional let alone a newly trained ex-con who transitions from one position to the next within the fine-dining restaurant. Mastering the carts, says Chrostowski, is a valuable life lesson of its own.
"There is no greater joy – or challenge – than to share what you've learned with others," he says. "It's like a practical exam our students are able to take every evening. It's a big boost in confidence being able to do in front of a crowd; if you can make it here, you can make it anywhere."
For diners, it's an opportunity to sit back, enjoy the show, and connect over a shared experience that is as delicious as it is entertaining.
"Everyone should have the opportunity to experience a tableside dish at least once in life!" Chrostowski says.