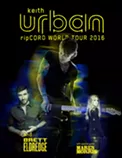 To date, country singer Keith Urban has delivered a whopping 19 No. 1 songs. Now, he's just announced the dates for RipCORD World Tour 2016, which pairs him with Brett Eldredge and special guest Maren Morris. The tour kicks off on June 2 in Kansas City, Missouri, and includes more than 50 shows in amphitheaters and arenas throughout the U.S. He performs on July 15 at Blossom and on Nov. 13 at the Covelli Centre in Youngstown.
"I'm seriously chomping at the bit to kick off this tour," says Urban in a press release. "We'll be playing a lot of new music from RipCORD, all new production, new cities where we've never played …and Brett Eldredge and Maren Morris? It's gonna be potent and unbridled!!!"
The tour comes on the heels of his forthcoming eighth studio album release of the same name, which has already produced two singles, "John Cougar, John Deere, John 3:16" and "Break On Me."
Ticket sales, which will begin in select markets on January 29, will become available locally within the next few weeks.