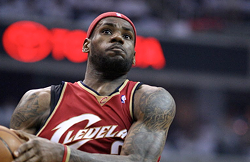 CNBC today announced plans to partner with LeBron James' and Maverick Carter's production company, SpringHill Entertainment, to create a new reality TV show for the network.
The series will debut this summer.
Here's the gist:
In "Cleveland Hustles," NBA superstar LeBron James and his longtime friend and business partner Maverick Carter will give four aspiring local entrepreneurs the chance to realize their own dreams while also helping to revitalize a neighborhood in Cleveland. LeBron and Maverick will enlist the aid of four trusted business experts and associates, who will in turn invest in and mentor fledgling entrepreneurs who need a little jumpstart. In success, these four businesses will provide jobs and services for neighborhoods that desperately need investment.