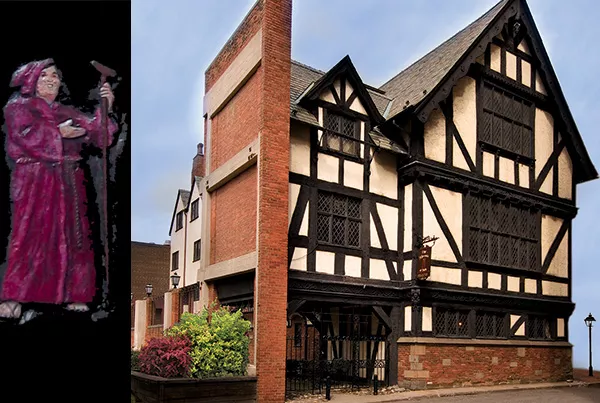 Despite being a little more than a year old,
Hofbrauhaus Cleveland
still holds plenty of surprises. The most fascinating one sits right under most visitors' noses: The Hermit Club.
Founded in 1904, The Hermit Club is dripping with history. The private club for performing arts buffs produces and hosts its own elaborate performances, holds elaborate initiation rituals, and fosters undying fraternity among its members – all of which continues to this day thanks to a partnership with Hofbrauhaus. But it's the physical space, designed by club founder and architect Frank B. Meade and completed in 1928, that is ripe for inspection.
"People are still very curious about the club and are always asking about its status," explains Marketing Manager Andrea Mueller. "The Hermit Club was a private club for over 100 years, and it's now open to the public."
While the club, now physically connected to the rest of Hofbrauhaus, has been open to guests, most visitors are oblivious to its existence, choosing instead to while away the hours in the festive beer hall. And who can blame them? But those who do wander into the woodsy abbey-style structure are invariably blown away by its character and authenticity.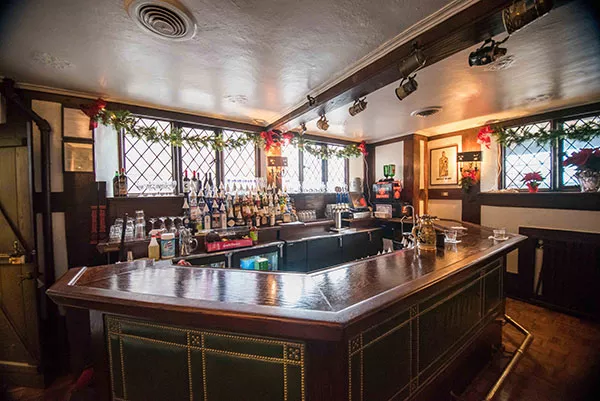 To shine a brighter light on that portion of the operation, Hofbrauhaus is launching a new "finer-dining" restaurant service in the Hermit Club space. Before, the 50-seat dining room with attached barroom was used for banquets, large parties and overflow dining, where guests enjoyed the very same items as those served in the rest of the complex. That will change starting Thursday January 21.
The restaurant will be open every day but Monday, accept reservations, and utilize a menu that is different from the one seen elsewhere. Items like potato pancakes with smoked salmon, lobster bisque, bone-in pork chops, grilled white perch, roast duck, roast chicken and pretzel bread pudding will be served in the cozy confines of the Hermit Club.
"We're really trying to tap into the theatergoers who come to shows in the theatre district and want something a little more upscale and maybe don't want the entertainment that is in the beer hall – something quieter, more intimate and finer dining," Mueller says.
We'll drink to that.