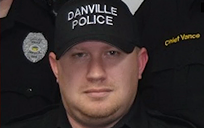 Danville Police
Cottrell
Danville police officer Thomas Cottrell was killed overnight after a local resident warned that her ex-boyfriend intended to kill a police officer.
(Danville is about 100 miles south of Cleveland. Population: Little more than 1,000.)
At around 11:30 p.m. last night, police received a 9-1-1 call from a woman who said that her ex-boyfriend was out to kill a cop. She noted that he was armed.
Dispatchers were unable to reach Cottrell via radio. During a search that unfolded around midnight, Cottrell's body was found behind the village's municipal building. He had been fatally shot; his weapon and car had been stolen.
Then, at 1:30 a.m., officers arrested Herschel Ray Jones — the man referenced in the 9-1-1 call — after a short foot chase through a local park. Police have not yet released any additional information about Jones.