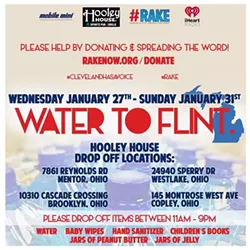 Will Burge, who you might know from WTAM and elsewhere, along with Ricky Smith of R.A.K.E and The Hooley House are collecting clean water, sanitary supplies and food items to deliver to Flint, Michigan, whose residents are devastated by the city-induced lead-poisoned water crisis.
Approximately 100,000 adults and about 9,000 kids under 6 have been exposed to E. coli and lead in the city's water supply. Because of the nature of the contamination, the water cannot be boiled, cooked with or bathed in. It's become a national story.
Donations will be accepted at any
Hooley House location
starting Wednesday and going through January 31. Each location will have a 20-foot storage unit in which anyone can drop off supplies between the hours of 11 a.m. and 9 p.m. The items needed are as follows:
Water (by the gallon or cases)
Baby wipes
Hand sanitizer
Jars of Peanut Butter and/or jelly
Children's books

R.A.K.E., which stands for Random Acts of Kindness Everywhere, has donated about 5,000 gallons of water and hand sanitizer to Flint residents already. They hope to double or triple the donations at the end of this campaign. R.A.K.E.'s founder Ricky Smith says he hopes to be able to send 120,000 bottles of water and 1,500 lunches to Flint residents this week.