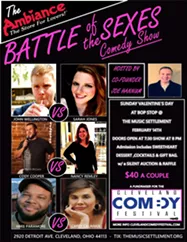 Romance doesn't have to be serious. To celebrate St. Valentine's Day, the Cleveland Comedy Festival and the Bop Stop have teamed up to present an event they call Battle of the Sexes at 8 p.m. on Sunday, Feb. 14, at the Bop Stop.
The event will include winning jokes submitted to the Ambiance "Best Sex Jokes" contest. Fans of Ambiance who submitted the winning jokes will be in attendance. Comedians in the "battle" on the men's side include John Wellington, Cody Cooper and Mike Paramore. Sarah Jones, Carey Callahan, and Nancy Remley will offer their comedic take on relationships from the female perspective.
"We could talk about roses and chocolates, but what is funny about that?" asks Cleveland Comedy Festival co-director Joe Hannum in a press release. "We know the comedy gold is when relationships go a little awry."
The event will serve as a fundraiser for the nonprofit Cleveland Comedy Festival, which holds its annual festival each November. There also will be a silent auction featuring Playhouse Square tickets, wine gift baskets, gift cards for couples date nights, and numerous other items. Doors open at 7:30 p.m. Tickets are $40 per couple with dessert and a cocktail included.
For tickets, call the Bop Stop at 216 771-6551 or purchase
online
.