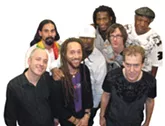 Courtesy of Little Fish Records
While Crop Rocks has been open for months now, On Air Studio, its satellite bar that'll feature live bands, hasn't officially opened yet. But after "testing and tweaking" the sound, lighting and TV broadcast systems, Chef Steve Schimoler has announced he's ready to open the place.
"The design was to be a multi-media venue," says Schimoler. "It's taken us two months to dial it in. The bottom line is having a spot where we can have a diverse platform of content — live music, TV shows, plays. I think one of the key things is our ability to archive everything that goes on there. We don't want to lose these gems of jams and shows. One of the most rewarding thing is the bands and musicians who have been here for the past two months. They go out of their way to say it's the best-sounding venue in the city. They're all in the production room afterward listening to the playback. We have it to be where we want it to be. We invested heavily in the technology. From the artist's perspective, all the bells and whistles have been tailored to what they want."
Local reggae singer Carlos Jones and his P.L.U.S. band [pictured] kick things off on Feb. 19 with a free concert. Doors open at 9 p.m. with happy hour specials in both Crop Rocks and On Air. Then, on Saturday, Feb. 20, comedian and WMMS radio co-host "Bad Boy" Bill Squire hosts a birthday bash with his stand up act and special appearances from Alan Cox and co-host Erika Lauren, who'll perform with her band Pop Vulture. Doors for that show are at 9 p.m. and tickets are $5.
Every Sunday from 5 to 9 p.m., On Air will host a free open jam. On Sunday, Feb. 21, "Cream Of the Crop," Schimoler's house band, will perform. A different house band will rotate from week to week.
Schimoler hopes to lure national acts to the place too. When singer-songwriter Graham Nash was in town last year for the opening of his exhibit at the Rock Hall, he toured the place and fell in love with it. As a result, Schimoler is currently trying to book him for a two-night benefit concert.
"We're looking at July," he says. "He was here for a private dinner last year. After dinner, we hung out and hit it off. I should have had a backline ready to go because he was ready to play that night. I hope to do a dinner with Graham. It'll be a three-course dinner paired with his favorite foods. And we would want to broadcast as a pay-per-view. You could have thousands of people watching it and what they pay to watch it will go direct to the charity. He can raise one hundred grand."