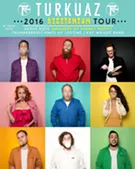 FRIDAY, FEB. 12

Turkuaz/Ghost Note



Not a band that rests on its laurels, funky hydra Turkuaz dropped Future 86 in 2014 — to much acclaim — and immediately began expanding its sound further. The result — for now, at least? Digitonium, an electronic-leaning dance party on a disc. From the infectious "Introduction" (which really could have gone on for another 10 minutes without a problem) to the disco-funky robotica of "Nightswimming," Turkuaz somehow pulls off a 24-song album without even the hint of a hitch. Even better: The band has shown over the years that translating these relentlessly upbeat tunes to the stage ain't no thang. We imagine tonight will continue that tradition. (Eric Sandy), 9 p.m., $14 ADV, $17 DOS. Beachland Ballroom.

Skizzy Mars
Young New York-based rapper Skizzy Mars cites indie rock acts such as Death Cab for Cutie and Animal Collective as influences. Not that you can really hear those influences on his latest effort,
The Red Balloon Project.
The album opens with "Like This," a narrative-heavy track that finds Mars adopting a sluggish delivery style as he intones, "like this/like this/like this" over a slow-motion groove. The loopy "The City" has a good beat to it and recalls old school jazz-inspired acts such as Digable Planets. Catch him at the Grog before he moves up to bigger venues. (Jeff Niesel), 7:30 p.m., $18.
Grog Shop
.
Red Wanting Blue
Red Wanting Blue is a touring band's band. They've essentially been on the road for nearly 20 years, deepening their personal map and writing "road records" along the way. So when singer Scott Terry and his bandmates — bassist Mark McCullough, guitarist Greg Rahm, drummer Dean Anshutz and guitarist Eric Hall — found themselves on the other side of a near-death experience, well, that's when the writing for their next album grew more immediate. They released
Little America
in July 2014, etching a moment in time for a band that's relished countless others. The songwriting seems more clear-eyed and more laid-back on this one. Terry may have become a more comfortable songwriter over the years, as he's maintained his commitment to honesty in music and to transposing the stories of his life into song. (Sandy), 8 p.m., $20 ADV, $25 DOS.
The Kent Stage
.
Silent Disco
The concept of the silent disco may have been inspired by a scene from the late-'60s Finnish film
A Time of Roses
in which partygoers wore headphones. Now, almost 50 years later, it is becoming a nationwide staple, and the Grog Shop has fostered the trend in Cleveland with events sometimes being held at MOCA. It's a modernized clubbing experience that plays into the isolationism encouraged by current technology: each disco-goer dances to music provided through headphones, while anyone on the outside sees a room full of people dancing in silence. So what's the appeal when you can dance to music in your headphones at home any day? You'll be dancing to live mixes by local DJs who specialize in any sort of club music you can imagine: house, tech, bassline, DnB, dubstep, hardcore, tech, tribal, and beyond. At any given time, three DJs will be playing, and you can toggle between them on your headset. How's that for a custom experience? (Bethany Kaufman), 10 p.m., $8 ADV, $10 DOS.
Grog Shop
.


SATURDAY, FEB. 13

2016 Tri-C High School Rock Off
As a way of nurturing and supporting the talent native to Northeast Ohio, the folks at the concert promotions behemoth Live Nation devote what is traditionally a slow time of the year for concerts to this annual event, a battle of the bands that pits high-school bands against one another in a competition to crown one final winner the best high-school band in the land. Last year, the event returned to the Rock and Roll Hall of Fame where a handful of bands battled it out each weekend before one winner was crowned in the Final Exam. This year, the event also takes place at the Rock Hall. Every Saturday in January, regional bands competed before a panel of judges for the right to move on to tonight's "Final Exam," which takes place at 5 p.m. at the Rock Hall. Now in its twentieth year, the event will also feature special appearances by alumni acts who'll perform at the end of each round. (Niesel).
Rock & Roll Hall of Fame and Museum
.
JC Brooks & the Uptown Sound
For about a decade now, JC Brooks and the Uptown Sound have been tossing edgy funk and soul music into all corners of the country's many music scenes. Gaining cred on the national festival circuit, the band picked up a nice rep for its genre-blending: Brooks' soulful stature works in juxtaposition with the band's more distorted chord progressions and riffs. We're still spinning 2013's
Howl
, which will give you a nice idea of the sort of musical experience these guys offer. In sum, the band has described itself as "Otis Redding fronting The Stooges." We like that. Oh, and while we're at it, let's also point out Brooks' badass cover of Wilco's "I Am Trying to Break Your Heart." Really good stuff. (Sandy), 9 p.m., $15.
Musica
.
Twiztid
The rap-rock duo that features Jamie Spaniolo and Paul Methric, who perform under the respective personas of Jamie Madrox and Monoxide Child, brings its Be My Bloody Valentine show to the Agora tonight. Former members of the group House of Krazees, which disbanded in 1997, Spaniolo and Methric have the same rapbid fanbase as former labelmates Insane Clown Posse. Their most recent album,
The Darkness
, debuted on the Billboard Top 200 charts at No. 29, making it their 11th album debut on the chart. The Darkness marks the group's first Billboard debut since the launch of its own imprint, Majik Ninja Entertainment and suggests the group is as popular as ever. (Niesel), 6 p.m., $25 ADV, $30 DOS.
The Agora Theatre
.
Weird Science
Despite being only one-fifteenth the size of Cleveland, the rural college town of Athens, Ohio is a miniature music Mecca. Just one of the many bands that has grown from its cow patty-fertilized soil, Weird Science has played dive bars across the Midwest for years and was recently voted the second best local band by
Athens News
readers. Their first release, 2012's
We Are Sick People…Pray for Us
, fits soundly in the garage punk genre, mixing '60s garage rock with just a dusting of country twang. Tracks such as "Pig's Ear Creek" and "This Page is Running Itself Dry" will be enjoyed by fans of the Black Lips, while the band ventures into prog rock territory on lengthier jams like "Appalachian Creeper." After Party, the band's 2016 follow-up album, is closer to pure punk, leaning hard on influences like Husker Du. The show will be opened by one of Cleveland's most electric live performances, psychedelic-blues act Ma Holos; it's a pairing you won't want to miss. (Kaufman), 9 p.m., $5.
Happy Dog
.
SUNDAY, FEB. 14

Big Sam's Funky Nation
Big Sam fronts Funky Nation, a contemporary force of funk and rock from down south. Culled together from years of talent and collaboration, the band is one of many bringing the sweet sounds and vibes from New Orleans to venues around the world. Cleveland, always very open to the funk, plays host this weekend. (Sandy) 8 p.m., $13 ADV, $15 DOS.
Beachland Ballroom
.
Rick Springfield: Stripped Down
"Light This Party Up," the high energy track that leads off
Rocket Science
, singer-guitarist Rick Springfield's 18th studio album which will be released on February 19, began as a potential track that he wrote for the film
Ricki and the Flash
. While Springfield was filming the movie in New York, he found himself with a whole weekend to kill, so he went looking for a chance to collaborate with someone and hooked up with guitarist Tad Kubler of the Hold Steady, who knew a friend of Springfield's manager. Jay DeMarcus of Rascal Flatts also worked with Springfield, co-writing "Down" during a chilly time in Atlanta when the pair were both shooting an episode of the
Drop Dead Diva
television show that got delayed by an ice storm in early 2014. The new album features an interesting hybrid of the giant guitar-driven pop hooks and layered sound that he is well-known for, mixed with a distinct country vibe and instrumentation. The new songs should translate well at tonight's show. (Matt Wardlaw), 7:30 p.m.
Hard Rock Rocksino
.