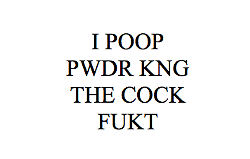 For every "No 1 Mom" you see on the back of a family station wagon, there's a "BOOBZ" vanity plate (or a couple hundred) that never see the light of the day. The Ohio BMV (with some help from the ACLU) are tasked with keeping vulgarities and racial slurs and all other manners of linguistic no-nos off the roads.
The Special Plates Review Committee, a seven-member board that includes folks from high up on the BMV chain as well as customer service associates, takes a look at each submission and, sometimes with the help of the internet, decides if it's suitable for public road consumption. A lot of times they don't even need the internet — there's a database with previously rejected plates and word combinations that is continually updated.
They get ton of requests they reject, and because it's a government thing, it's a public record, which means it's fun every once in awhile to dial them up and get the latest and not so greatest from the reject pile. Below, the 700+ from 2014—2016. Enjoy.
Thanks to
WCMH NBC 4
for putting up the list (which does contain plenty of potentially offensive words or suggestions.)