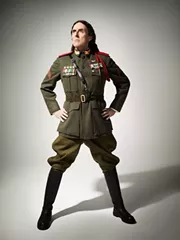 Not even torrential rain and wicked lightning could put a damper on the career-spanning two-hour set that "Weird Al" Yankovic's delivered last year at Jacobs Pavilion at Nautica as he came through town in support his most recent album,
Mandatory Fun
.
Following that successful tour, the four-time Grammy-winning artist and lover of musical parodies has announced the continuation of his Mandatory World Tour in 2016. He's also announced a flyaway contest that will allow winning fans will choose an all-expense-paid trip to Los Angeles to see one of his two performances at the Hollywood Bowl or to New York City for his show at Radio City Music Hall. He performs at the Akron Civic Theatre on Friday, June 24.
"I've decided to do the Mandatory World Tour for one more year, after learning that some people didn't make it out to the show this last time around," says Yankovic in a press release. "Apparently, they don't know the meaning of the word 'mandatory'!!"
Mandatory World Tour tickets go on sale this week beginning with a fanclub presale at 10 a.m. on Wednesday, February 24, at
weirdal.com
, followed by a general on sale at 10 a.m. on Friday, February 26.