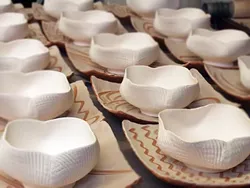 With
At Table: Cleveland Culinaria
, Heights Arts celebrates Northeast Ohio's rich culinary scene by transforming the gallery into five unique, themed installations that explore the art of food through the materials we use to eat and drink.
At Table: Cleveland Culinaria
features the work of 27 visual artists, including Pamela Argentieri, Eleanor Mallet Bergholz, William Brouillard, Heather Bryson, Domenic Fiorello, Susan Gallagher, Zach Gorell, Sharon Grossman, Lauren Herzak-Bauman, Heather Rose Hileman, Eva Kwong, Andrea LeBlond, Lynne Norwood Lofton, Sandy Miller, Pat Nicholson, Shayna Roth Pentecost, Carmen Romine, Donna Turner Ruhlman, Judith Salomon, Lauren Sammon, David Shafron, Kate Snow, Freeland Southard, Ari Warner, Clarissa Westmeyer, Nikki Woods and Stephen Yusko.
"
At Table
highlights our organization's collaborative nature in a new way," Heights Arts Executive Director Rachel Bernstein explains. "Through this project, we have combined many disciplines within the art world with something we can all connect to—food. Visual and culinary artists have worked together for several months to create a unique experience we can share with our community; through the exhibition itself, neighborhood activities, and food events at the gallery. I'm excited to experience the results, both personally and within our community."
Heights Arts hosts a free opening reception from 6 to 9 p.m. this Friday, March 4. In conjunction with the exhibition, Heights Arts has organized several multi-course food events, as well as a friendly neighborhood mixology contest, ARTinis & Creative Cocktails, where local restaurants and bars compete for the title of most popular Heights Arts-inspired beverage, determined by popular vote. A complete list of participating businesses and descriptions of each beverage are available
on Heights Arts website
.
Sunday, March 13, 1 to 3 p.m.

Bridget Thibeault of Luna Bakery and Café, and Noelle Celeste of Edible Cleveland present a special Scandinavian brunch theme. Guest poet Gail Bellamy will read a spoken variation on the event's theme.
Sunday, March 20, 4 to 6 p.m.
Local food and photo stylist Melissa McClelland presents Sunday supper-style comfort food. Guest poet Paul Ryland will read a spoken variation on the event's theme.
Thursday, March 24, 7 to 9 p.m.
Bob Sferra of Culinary Occassions celebrates spring tapas. Gest poet John Donoghue will read a spoken variation on the event's theme.
Monday, April 4, 7 to 9 p.m.
Marc-Aurele Buholzer of Vero Pizza Napoletana presents local and seasonal small plates. Guest poet Kathleen Cerveny will read a spoken variation on the event's theme.
Sunday, April 10, 4 to 6 p.m.
Explore cuisine from around the world with Douglas Katz of fire food & drink, Provenance and Fire Spice Company. Guest poet Meredith Holmes will read a spoken
variation on the event's theme.
Ticketed, advance reservations ($50 food & drink / $35 food only; Heights Arts members $40 food & drink / $25 food only) and menu descriptions for all food events are available online at heightsarts.org and in the gallery shop.
At Table: Cleveland Culinaria
remains on view through April 16.
(Heights Arts) 2175 Lee Rd., 216-371-3457, heightsarts.org