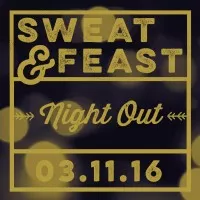 Photo courtesy of Sweat & Feast
Rala Bala is hosting a Sweat & Feast Night Out this Friday, March 11.
It's a fitness and food party all wrapped up into one, because what's the point of working out if you can't enjoy recapping those calories afterward. It'll be held at Redspace in downtown Cleveland. Check-in is at 6:30 p.m., followed by a workout and some fitness knowledge at 7 p.m. and eating, shopping and mingling at 8:30 p.m.
Tickets can be
purchased online
and are $55 per person. Admission includes the workout, eating, a drink and fun surprises.