It's been a difficult year for Michael Symon. The high-profile celebrity chef recently lost his oldest restaurant to fire and his newest restaurant,
Mabel's BBQ
, has been very publicly besieged by exasperating delays.
But there is light at the end of the tunnel, at least as it applies to Mabel's. After months of construction, the restaurant is in the final stages of construction, with only a few minor cosmetic touches left to check off the punch list. And the results are remarkable, a dramatic departure from the space's previous life as La Strada.
"I think it really came out great," Symon says during a walk-through of the East Fourth Street space. "I just didn't want it to look too cutesy – it's a barbecue joint. It's raw enough but still interesting and cool. I wanted it to have a market feel."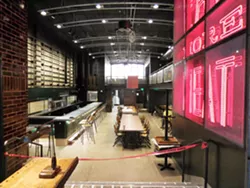 That "market feel" is achieved through the use of gorgeous handmade tiles, glazed in a warm brown finish, which wrap the walls. A barrel-style ceiling mimics, at least in spirit, the one found high above the West Side Market floor. And lengthy wooden communal tables provide the sort of casual seating found in some of the country's best barbecue joints.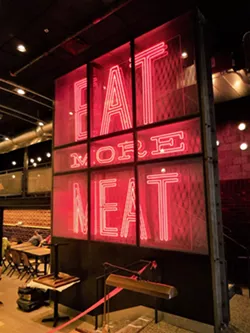 Diners are first greeted by a towering neon sign that reads "Eat More Meat" in blazing red. To the left, a hostess stand is backed by a sliding butcher shop-style door trimmed out in black leather belts.
There is seating for about 100 guests at those communal tables, at conventional tables on the main floor and two second-level seating areas, and at the lengthy zinc-topped bar. The rear mezzanine dining room, which overlooks the main floor, will feature large-format black and white photos of Symon and his wife and partner Liz.
The bar is wrapped in a retro-hued enameled material that conjures images of those vintage mint green picnic coolers. Above the bar will be the massive menu board, fashioned out of the individual plastic letters most commonly seen advertising the price of gas at service stations. The restaurant's heart and soul, those twin fire-engine red smokers, sadly are tucked away and out of view.
Coming out of those hardwood-fueled smokers will be smoked meats by the pound like beef brisket, pork roll, turkey breast and kielbasa. Ribs come in three varieties; "giant beef ribs," pork spareribs and lamb ribs. Sandwiches include the Polish Girl, made with kielbasa, coleslaw and pulled pork, the Mr. Beef, with brisket, onions and pickles, and the Big Pig, a combination of pork roll, cracklins and slaw.
Snacks are built around smoked pig tails in hot sauce, crispy pig ears, and salt-and-vinegar pork cracklins.
There will be 24 beers on draft, a massive whiskey selection, and cocktails made both for one and batch-made cocktails for small groups.
To get the perfect look and feel, Symon enlisted Cleveland-based Richardson Design, with whom he worked to create 13 B Spot locations across Ohio, Michigan and Indiana, as well as Bar Symon located at Pittsburgh International Airport and Washington Dulles Airport.
If all goes as planned, Mabel's BBQ will open to the public in mid-April.
The Lolita staff, which has been on the company payroll since fire shuttered that Tremont restaurant back in January, at least have a new place to call work. That's one silver lining to an otherwise bleak forecast as that restaurant likely won't reopen for a year, says Symon, who opened that space as Lola, his and Liz's first restaurant, back in 1997.
"It's getting completely gutted," he says. "They're ripping the whole place out because of the smoke and water damage. I walked in there yesterday and felt sick. It took 20 years to build it and two weeks to tear it down to nothing."
Here's hoping for a speedy recovery.
The space before, as La Strada