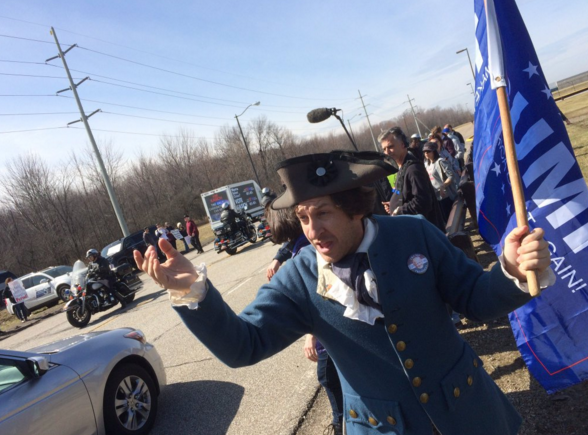 Update 4:52 p.m.:
Nope. Not yet. This video is all over social media now. "If you're an African first go back to Africa," shouts a camo- and Chief Wahoo-lovin' Trump supporter at an African-American. Disgusting. Unacceptable.
Update, 2:56 p.m.:
And with this one, we're gonna call it a day.
Update, 2:23 p.m.:
Trump is now speaking and so me protestors have been led out. "Get them out of here," Trump said. Calls them Bernie people. We talked to a group who were led out — were college students who were "against hate speech."
Update, 1:58 p.m.:
You can watch the livestream courtesy of WEWS
here.
Update, 1:21 p.m.
: Trump's plane has landed in Cleveland. Announcements instructing attendants to be peaceful and respectful of protestors was apparently met with boos.
The guy in the revolutionary war costume outside didn't hear said announcement inside the walls of the I-X Center but someone should have told him.
***
Donald Trump is scheduled to appear for a rally in Cleveland this afternoon around 2 p.m. His Dayton rally this morning started 50 minutes behind schedule, so that may affect the start time for the rally at the I-X Center.
Hundreds are already in line though and so far the atmosphere, at least among his supporters, is "cheerful."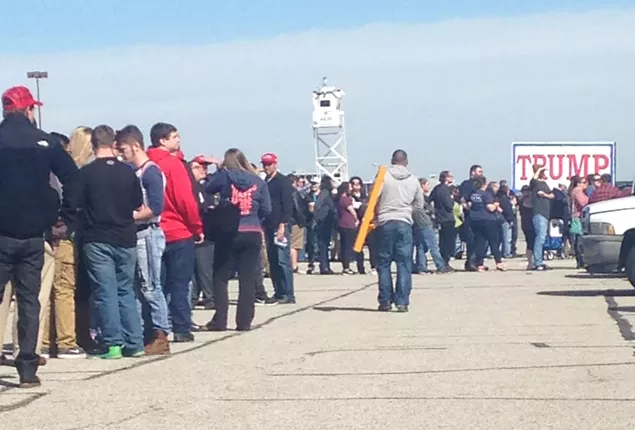 A small group of protestors have lined the street.
Inside the parking lot area there's plenty of people hawking Trump gear — pins, for example.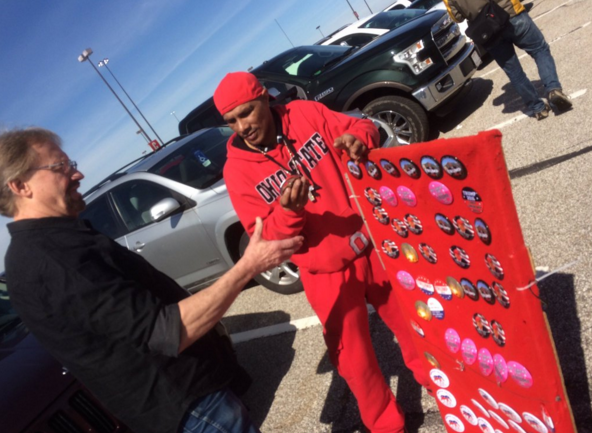 And some super classy t-shirts.
The doors have just recently opened and the crowds are slowly starting to file in. There are plenty of homemade signs and shirts with offensive content on them, but they won't be allowed inside. Per TSA regulations, no signs with sticks or shirts with racist/sexist content will be permitted through the doors.
Right now, most of the attention from the media is out on the streets where pro-Trump supporters are engaging with the other side.
Take, for instance, this engagement.
Meanwhile, remember when both Rubio and Kasich said they'd support Trump if he ended up being the Republican nominee? After
yesterday's contentious rally in St. Louis
and the
chaos surrounding the canceled rally in Chicago
yesterday evening, Rubio and Kasich have tempered their words today.
We'll update as the afternoon progresses.