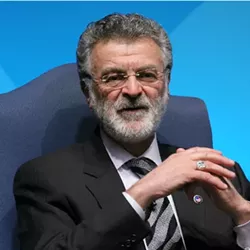 The City Club of Cleveland
Mayor Frank Jackson delivered his 11th State of the City Address Thursday afternoon — his 11th! — at the Cleveland Public Auditorium in an event co-sponsored by the City Club.
(
You can watch the full address, and the traditional City Club Q&A, here.
)
Jackson's address was yet another variation on themes he's been fitfully articulating for years — a great city should be measured by the well-being of its people ("particularly the least of us"), etc. — yet he invited the crowd to view this year's vision as a "paradigm shift."
"As opposed to celebrating the tools," Jackson said, "Cleveland has to celebrate people, and people's lives being transformed."
The motivational speaker rhetoric was dramatized by the delivery itself. This year, Jackson dispensed with the moderator format — last year, Jackson
submitted to questioning
by none other than KeyCorp. President and CEO Beth Mooney — and spoke directly to the audience. He paced back and forth on stage, relying on neither prepared notes nor lectern.
Paradigm shift indeed!
Jackson celebrated how Cleveland has overcome "the challenge of attitude," how CMSD has dramatically improved its high school graduation rates, and how his administration has pursued equitable growth by asking developers to abide by community benefits agreements. He had no interest in touting individual development initiatives, he said. He's much more eager to promote by the $25 million he has set aside to improve struggling neighborhoods.
"We're not talking about projects," he said. "We're talking about transformation."
But Jackson's address, ultimately, could be interpreted as a pitch to the business community to support the income tax increase that he's been hawking since early February. Jackson says the hike is necessary due to cuts at the state level and increased expenditures thanks collective bargaining agreements and the Consent Decree.
He framed both renewing the Cleveland schools levy and acceding to a tax increase as ways in which our resolve will be tested. If we don't do these things, Jackson suggested, we're probably not all that committed to real reform.
In a Q&A period, Jackson delivered a flagship quotable to a high school student — "If you put BS in, you'll get BS out," he said — and parroted the GCP's preferred narrative when asked about the long-term benefits of the Republican National Convention.
"I believe that after the RNC, after we show the world what Cleveland really is, who we really are, that there will be people interested in coming here," Jackson said. "And if we give those delegates, and the 50,000 other people, a good experience, then they too will go back to wherever they live… and have a positive attitude, a positive conversation. And when a choice comes up about where they want to go visit, where they want to do things, it will be Cleveland."
Jackson reiterated, though, that in order for those benefits to be successful in his eyes, the subsequent prosperity must be broadly distributed.