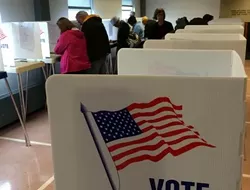 Photo courtesy Cuyahoga Board of Elections
There are lots of ways to tell people you voted today, but only one of them could give you a felony. (Probably not really but the law is on the books.)
Today the Cuyahoga County Board of Elections sent out a friendly warning on Twitter encouraging eager voters to NOT snap a pic of your completed ballot.
It's not a new law, but one that nobody probably paid attention to until is was easier to do so via the popularity of smartphones. Here is the official wording of the law on the books, according to Ohio Revised Code 3501.35(4):
No person shall attempt to induce an elector to show how the elector marked the elector's ballot at an election; or, being an elector (the voter), allow the elector's (own) ballot to be seen by another, except as provided by section 3505.24 of the Revised Code, with the apparent intention of letting it be known how the elector is about to vote; or make a false statement as to the elector's ability to mark the ballot; or knowingly mark the ballot so it may be identified after it has been cast; or attempt to interfere with an elector in the voting booth when marking the elector's ballot; or knowingly destroy or mutilate a lawful ballot; or remove from the polling place or be found in unlawful possession of a lawful ballot outside the enclosure provided for voting; or knowingly hinder or delay the delivery of a lawful ballot to a person entitled to receive it; or give to an elector a ballot printed or written contrary to law; or forge or falsely make an official endorsement on a ballot.



Whoever violates this section is guilty of a felony of the fifth degree.