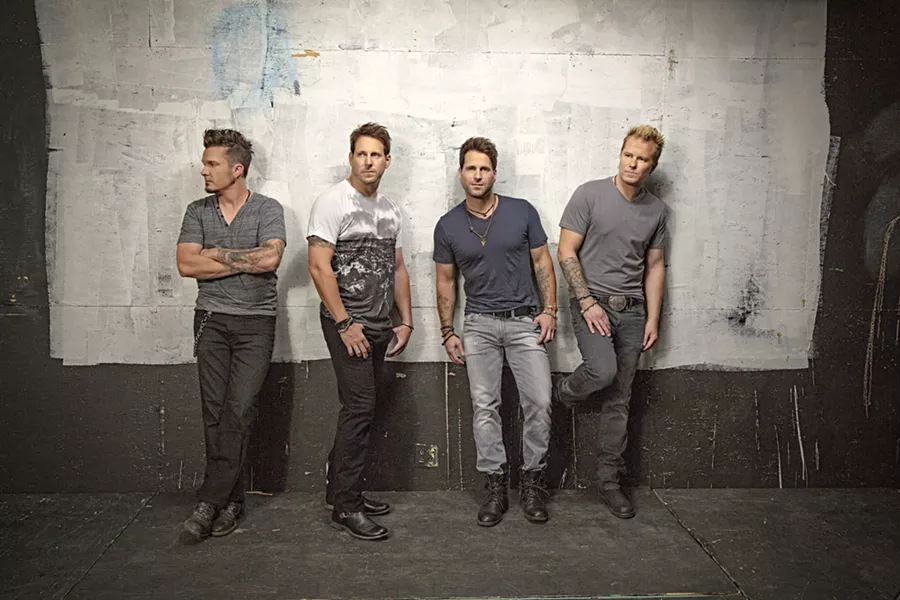 Parmalee bassist Barry Knox grew up in North Carolina listening to "a lot of Marvin Gaye and Teddy Pendergrass and stuff like that."
So when it came time to start playing original music, he and his Parmalee bandmates, his cousins Scott and Matt Thomas, who also grew up in North Carolina, drew from a slightly different musical well.
They all initially played together in a band with Jerry Thomas, Scott and Matt's father, before forming Parmalee.
"It was more of a blues/soul band," says Knox via phone when asked about his uncle's band. "He played keys and we played a bunch of Delbert McClinton, Allman Brothers and stuff like that. Classic rock and blues."
Parmalee, which performs at 10 p.m. on Saturday at the
Dusty Armadillo
in Rootstown, naturally evolved out of that group.
"We were lucky enough to meet [guitarist] Josh McSwain in Greenville at East Carolina University," says Knox. "His band was playing the same clubs as my uncle Jerry was playing. Uncle Jerry was getting older and wanted to get out of the game. We met Josh and became a band in a very natural way. When we played our first show together as four members of Parmalee, it was the last show that Uncle Jerry played. We opened up for Uncle Jerry but we all played in his band so we basically opened up for ourselves."
After the release of
Inside
in 2004, the band spent two years honing its musical chops on the road.
"That was a very good learning experience," says Knox. "Looking back on it, we were just hitting the road and booking our own shows. We didn't have anyone with us. It was just us four. We drove the van. We booked the hotels and loaded the gear and sold our own merch. We were road-dogging it. It was a good learning experience for us. After that, we found out that we needed to go in a direction that would be more successful as opposed to playing for 150 people every night and just wearing ourselves down doing it. We wanted to do it for a living, but we wanted it to be a little bit easier."
At one particular dive bar in Rock Hill, South Carolina, the guys ran into some trouble as a couple of thugs held them up. Drummer Scott Thomas wound up in the hospital. The shooting created a major setback and took the band off the road. But the group returned even more determined to have a successful career.
"Well, I think it was the determination that we had that kept us going," says Knox. "I really do. When Scott woke up, the first thing he said was, 'We ain't playing those shitty clubs.' Right then, I knew he was going to get better and we were going to do this thing. It was his determination to live that let us know that we needed to push on. We had to get better and be successful. We had worked so long and so hard that to not be successful would just suck."
The band's latest album, 2013's
Feels Like Carolina
, shows how far the group has come. The hard rocking opening tune "Musta Had a Good Time" has a Charlie Daniels-like swagger to it and the title track comes off as a compelling power ballad. The album has led to a nomination for 2016 Academy of Country Music award for New Vocal Duo/Group of the Year award, and Parmalee recently performed the hit single "Already Callin' You Mine" on NBC's
Today
show. With the album's success, Parmalee has earned over 19.7 million YouTube/VEVO views, 284 million Pandora streams and 41 million Spotify plays to date — impressive numbers that suggest the band's finally come into its own.
"When we wrote 'Carolina,' we knew that we found the Parmalee sound," says Knox. "Up until that point, we were just playing music and having fun. We didn't have any direction. We had a producer push us in more of a rock direction. There's another song called 'San Diego' that's a straight up country song that never made our record but it was 'Carolina' when we finally found our sound. We realized that we were good at this and we just needed to do it and stop being scared and delivering stuff that people want to hear. We wrote a bunch of stuff and what got released was a handful of those."
One reviewer rightly notes that there's lots of "crunchy guitar riffage" on the album.
"Yeah, I have to agree with that," says Knox. "Josh and Matt both play guitar. Matt is more of a blues guy and Josh is more of a metal ripper. That definitely comes out in our music. We have this thing that we called the Parmalee groove, and it's definitely bluesy and full of guitar riffage."
While some musicians might shrug off awards and nominations, not Knox. He's proud the group's been nominated for a 2016 ACM "New Vocal Duo/Group of the Year" award.
"It feels good for everybody," he says. "It's like we're now accepted and recognized by the industry as something great and successful. It feels very good."