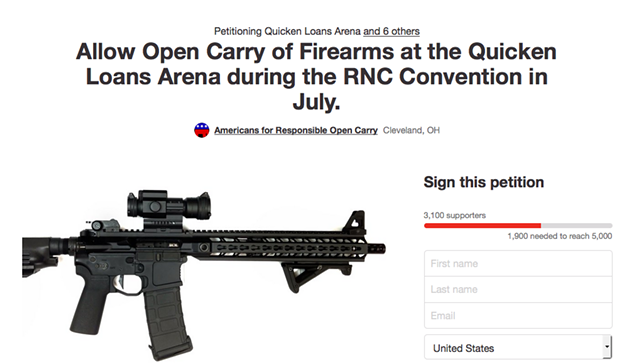 Update: In a shock to no one, the Secret Service says no weapons will be allowed inside Quicken Loans Arena for the RNC despite thousands and thousands of (useless) signatures on a petition demanding open carry for the event.
***
(Original story 3/24/16): For all the ink spilled on the upcoming GOP visit to Cleveland and the attendant worries about Cleveland's ability to deal with protestors in general and the sometimes violent nature of interactions between some Republican supporters and protestors around the country so far this year, sometimes it feels like the city isn't fully prepared for what is actually coming down the pike.
Which brings us to this petition on Change.org, from Americans for Responsible Open Carry, which demands that THE POWERS THAT BE force Quicken Loans Arena to temporarily set aside its ban on weapons inside the arena so that folks can enjoy the Trumpian majesty of the convention while bearing arms.
The whole tome
can be read here at your pleasure and leisure
, but if you want just a taste, here's a snippet:
According to the policy on their website, "firearms and other weapons of any kind are strictly forbidden on the premises of Quicken Loans Arena."

This is a direct affront to the Second Amendment and puts all attendees at risk. As the National Rifle Association has made clear, "gun-free zones" such as the Quicken Loans Arena are "the worst and most dangerous of all lies." The NRA, our leading defender of gun rights, has also correctly pointed out that "gun free zones... tell every insane killer in America... (the) safest place to inflict maximum mayhem with minimum risk." (March 4, 2016 and Dec. 21, 2012)

Cleveland, Ohio is consistently ranked as one of the top ten most dangerous cities in America. By forcing attendees to leave their firearms at home, the RNC and Quicken Loans Arena are putting tens of thousands of people at risk both inside and outside of the convention site.

This doesn't even begin to factor in the possibility of an ISIS terrorist attack on the arena during the convention. Without the right to protect themselves, those at the Quicken Loans Arena will be sitting ducks, utterly helpless against evil-doers, criminals or others who wish to threaten the American way of life.
Is it August yet?