The Cavaliers lost two out of three on their final regular season road trip, blowing a ten-point lead in the last three and change of the third quarter. Cleveland retook a three-point lead into the fourth quarter thanks to LeBron, only to go without a field goal for the first eight minutes of the fourth. Meanwhile Chicago went on an 18-3 run and withstood a furious final rally to win 105-102.
The home stretch of the regular season has the Cavaliers behaving like a soapbox derby racer in Kansas: Very Little Forward Momentum. They haven't been able to sustain their strong play for more than a half most of the time, let alone string a few good games in a row.
They can't even consistently reproduce the same issues from night to night. Some nights it's the bench that blows the lead, others it's the starters. One night it's defensive deficiencies, the next it's offensive.
For a while the Cavaliers were very efficient with the ball. The first 20 games under Lue, the Cavs made 12.1 turnovers/game which opponents turned into 13.6 points. Over the last 19, they've averaged 14.2 turnovers and 15.7 points allowed off them.
Once one thing's fixed another thing breaks. Then you see your mechanic out driving around in a Mercedes S-Class. Suddenly you wonder if the issue's been with your car or the well-paid mechanic all along.
In Indiana James Jones described
them as coming to the wall, but continually putting off climbing it, like the titular character in Jane Says: "I'm gonna kick tomorrow." Only the Cavaliers aren't reliable enough to be an addict.
That's not to say the Cavaliers don't have a few favorite themes. Falling in love with jumpers, and failing to continue to aggressively attack the rim. Not getting back in transition defense. (Several times in a row.) Stagnant dribble-laden offense. Lackluster attempts to get over picks and screens. Failure to challenge three shooters or make help rotations.
To some extent these are maladies bedeviling many teams. But rarely does a title contender suffer from such acute schizophrenic. It's hard to say "title contender" because the Cavaliers look like an eighth place team with frustrating regularity.
It's like we snuck the sexy librarian out the book chute, full of expectation and adventure. We want her to pull that pencil out of her bun, doff the glass and give that brunette mane a boisterous shake, dropping a Larry O'Brien Trophy into our grubby little hands.
We weren't perhaps ready for the crook of her nose, how far apart her eyes are, and that forehead the size of a sea wall. There's not a team out there without blemishes, and the Cavaliers are no exception.
It'd be hard to argue this year's squad looks good enough to beat last year's Finals team, let alone the juggernaut that went 34-3 with 'Bron, Love and Irving in place. New year, new team. They look better on paper, but on a court they'd get their arse kicked halfway to Manchester.
In football, there seems to be too much emphasis on combines and all-star games, while the savvier folks tend to be the ones that weight the whole work. We're going to point ourselves in that direction, even if it's hard to convince ourselves. Will this inconsistency and struggle to turn it on (except when circumstance turn dire) dissipate like morning fog in the playoff heat?
What the hell. Don't worry they're going to pull it together when the games count! They won't lose focus, or take their foot off the opponent's throats. They understand what's at stake. They're talented enough, and they're hungry enough (??), and gosh darn it, Cleveland deserves a championship.
If that affirmation's not powerful enough to ignite Cleveland's hot mess, maybe the Cavs should revisit the video of Golden State celebrating at the Q.
The Game
The Cavaliers jumped out to an early ten-point lead, hitting 7 of their first 11, 5 of them assisted, 3 by Kyrie. Love was the early recipient getting 10 point of the team's first 19 points. The Cavs immediately lost the lead and over the last half of the quarter committed four turnovers. The Wine and Gold took a four point lead into the second quarter.
If only the Cavaliers could consistently count on
this guy
showing up…
Love finished the first quarter with 13 points pulling his traditional Dave Chappelle (blowing up and then completely disappearing). He finished with 20 but was 2-10 after the first quarter. Nobody is surprised. But here are the stats in case you're curious.
His eFG% stays high in the first half, when his usage is strong, but in the second half, the pace slows and Love's usage shrinks. He seems to need the rhythm of a certain number of touches to get things going, but in the second half they just don't arrive, producing his exceptionally ugly fourth quarter numbers. If Mozzy were carrying those kind of numbers around… oh wait he is.
Timofey Mozgov has been part of some of the team's worst lineups. So last night Lue started Tristan Thompson. We can't argue with the call given Mozgov's poor performance but it had a trickle down effect on the whole lineup. Mozgov isn't real familiar playing with Channing Frye or Richard Jefferson and it led to some on court confusion last night.
With Iman Shumpert sitting with a sore knee, and Mo Williams also sitting, the Cavaliers were shorthanded, and Lue responded by shortening the bench. Outside Delly, the reserves (Jefferson, Frye, Mozgov) played 33 of the game's 240 minutes. All this had repercussions in the fourth quarter.
Lue ran Irving out there with Jefferson, Frye, Mozgov and Delly. They got clobbered with part of the aforementioned 18-3 run. Because of the minutes he'd given the starters, he had little option but to stick with the guys that were getting crushed.
Part of the problem was that the Bulls started trapping and blitzing Kyrie on the pick-and-roll, forcing him to give the ball up. While they had maybe expected to pass, Irving instead coughed the ball up.
"They had I think 27 points off turnover and also 13 offensive rebounds. It's hard to combat that and win the game," said Lue. "They tried to blitz and corral [Kyrie]. We just have to do a better job of handling that."
This empowered the Bulls bench. For the game, 17 of the Bulls 26 points off turnovers were scored by the bench. They outscored the Cavaliers bench 44-11. Cristiano Felicio was the Cavaliers Hall of Fame Sub of the Night, the nobody scrub the Wine and Gold honor by making him unstoppable. Felicio scored 16 on perfect 7-7 shooting, 7 off it on fastbreaks.
During that bad stretch to begin the fourth the Cavaliers missed all eight shots, and had four turnovers, three of them by Irving in foolish attempts to beat the double that not only squandered scoring opportunities but gave the Bulls bench easy ones to boost their confidence.
"Our rhythm was kind of broken," said LeBron James. "Our bench has been very good and has helped us win a lot of games this year. Tonight was just one of those rough patches for our bench. They did a good job of executing putting pressure on our team. They took the lead in the 4th quarter and it was hard to get the rhythm back."
Even when the starters came back, they couldn't turn them off nor quickly jumpstart their own offense. While it might be possible to take solace in the fact that the Cavaliers fought back from a 13-point deficit to make it a one-shot game, we're not sure that's a great message. Should the Cavaliers be encouraged to engage in Muchausen-by-Proxy?
The Cavaliers got back into the game thanks to J.R. Smith who went into one of his supernatural states where he's so good it's stupid. In such a state nothing is a bad shot. (Similar to the Jack Daniels distillery.) In such a zone, J.R. – if necessary to get the shot off – could conceivably walk on water ala Chauncey the Gardener (Peter Sellers) in
Being There
.
Though his defense has been spotty of late, it's strange to admit that outside LeBron, J.R. Smith has probably been the most consistent offensive piece, especially since Kyrie came back and his 3-point shooting jumped over 40%. (It's unclear if and how those two might be related, though it's easy to imagine.)
Final Analysis

It's easy to put too much weight on these games. They're the end of the season. Guys are tired and their focus clearly isn't the best. They're best intensity is a Bic high atop the ski slopes – hard to get it lit.
While they failed last night to clinch the top seed, it's hard to imagine the Cavaliers losing their next two (Hawks & Pistons) and the Raptors winning their next three. But it is possible. In all likelihood, the Cavs will clinch the top seed at home on Monday. If all else fails, the Pistons are eminently beatable too. Then again, should we be raising our expectations?
The half-full brigade will tell you that the season doesn't start until next weekend when the playoffs kick-off, and even then the playoffs don't really start until someone loses a home game. This is true. Maybe the game-to-game, quarter-to-quarter fluctuations in effort and energy are not having enough of a challenge.
Let's hope so, because the alternative is that the Cavaliers are some frontrunners whose other talented two shrink at the game's end, leaving it to LeBron (and sometimes J.R. Smith) to work time-and-a-half to fill their absence. It's certainly not always the case, but enough for anxiety.
It's pretty obvious what when their three isn't falling, the Cavaliers are very beatable, and with the talent on this team that seems absurd. While Love and James are at least getting to the line, the same can't be said of Kyrie. If there's some overreaction to some dribbling gaffes at particularly inopportune times, we're more concerned about Irving's declining free throw rate.
Irving's had four games in the last 13 where he's shot ZERO free throws, like he did last night. Last year (discounting the season's last two games where Irving played a total of 35 minutes between them), Irving only had three all year. Irving's has six this year.
We're not sure if this is an anomaly, a sign of a changing style of play, an injury or simply a failure to get back yet to where he was last year. He can only hit snooze twice more.
Meanwhile the impact of Shump's absence looms large. Not only did that mean more minutes from Richard Jefferson, which has been disastrous defensively lately, but the absence of Shump and Thompson has made the second team pedestrian again (or worse). It still can't score, and without those two the defense is much worse.
We're concerned that moving Mozgov to the bench is the next thing to not giving him any time at all, and we don't see him as someone that can quickly ramp up his skills when given a chance. The absence of Shump and Mo has shown how crucial the bench's solid performance is to the team's success.
We worry that taking Thompson out of that equation not only weakens the second team but doesn't alter the equation with the starters enough to make it more worthwhile. We don't know for sure, but we wonder if the pieces don't fit better the way Blatt first had them. No need to play Mozgov more than 16 minutes, but the mesh of the unit seems a lot better.
Which brings us to our final observation. We appreciate the difficulty of Lue's situation. He is still getting a feel for rotations – which is even more apparent when someone gets injured or in foul trouble. The whole issue's exacerbated by his tendency to run with a lineup even when the first indications aren't good. Lue sometimes seems a bit too ready to ride out a bad lineup
He doesn't have enough experience to be smooth in setting up some of these lineups, and even if he's experimenting, is this the right time? Moving guys in and out of the lineup three games before the playoffs is peculiar, as you really would seem to want guys to feel comfortable in their roles.
If you want a somber note, consider that LeBron had an absurd game where he was 13-17, including 4-5 from 3 for 33 points. The team even had 24 assists, having lost only twice before all season when topping that mark. Six guys had at least three assists, and the team made a season high 19 (of 40) threes. LeBron even hit this dagger to give the Cavs a lead going into the fourth.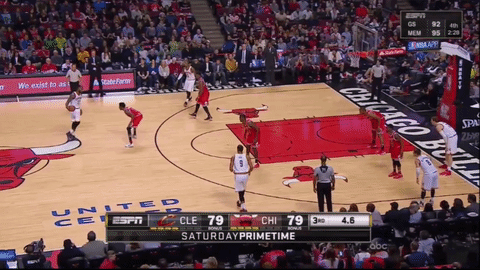 That doesn't sound much like a game they should've lost, and it didn't look like one either. However the Bulls are a tough team, and their young guys outplayed the Cavs bench vets like they were D-leaguers. We felt worse about the Pacers game which lacked defensive effort. They tried against the Bulls. They just didn't play very well when it counted.
Here's hoping that's not a pattern.
The Cavaliers next game is at home Monday against the Atlanta Hawks, currently holding the third seed in the Eastern Conference. We'll be at the Q with analysis, video and quips. Follow along on Twitter @CRS_1ne and read our postgame analysis on Tuesday morning here in the Scene and Heard section.