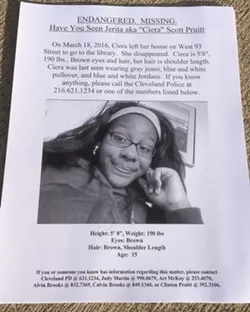 Cleveland police announced that Jerita Scott Pruitt, who was reported missing March 20 in Cleveland, was found this week.
"Missing person Jerita Scott has been located in Cuyahoga Falls, OH and is in good condition. Ms. Scott is believed to have left her residence on her own accord. Cleveland Police would like to thank the public and Cuyahoga Falls PD for their assistance with this matter."
***
Original story published April 19
Clinton and Rita Pruitt paced outside the Cleveland Public Library branch at West 83rd and Lorain on Monday evening. Armed with a stack of fliers bearing their daughter's face and information, they were comforted only by the small crowd that had gathered to help them spread the word: Jerita is missing, and they need to find her.

March 18 felt like a normal day. Temperatures dipped into the upper 30s as Jerita, 15, arrived home from school. She and her parents argued about grades (though she routinely pulled As and Bs, she had started slipping in some classes, Clinton tells Scene). And then she was off to the library, where she spent most evenings and which closed at 7 p.m.


"Time is going on, and she never showed up," Clinton says. "Her phone was off. I came up here looking for her, and didn't see her. The next day, she never came home." Jerita was formally reported missing on March 20. Clinton and Rita, both facing their own health complications, haven't slept in weeks.


The police, meanwhile, haven't done much. After a few weeks, the first detective working the case was removed. (He spent most of that time on vacation, anyway, Jerita's parents say.) The second detective isn't maintaining contact with the family. The school — from which Jerita has also disappeared for the past month — calls Clinton and Rita more often that the cops do.


And here's the key to everything, Clinton says: Jerita's school, Nexus Academy, is able to locate the school-issued laptop that Jerita is likely carrying around with her. But the school isn't giving that information up to the family, and the police aren't yet compelling administrators to hand over that information.


"This is a child that's missing, and you fumbled the ball on Gina DeJesus," Clinton says, indicting the police department for inaction on yet another missing persons case.


It's not for nothing that conversations about missing children in Cleveland return to the story of Amanda Berry, Gina DeJesus and Michelle Knight. (All three girls were abducted in this same general westside neighborhood.)


In the wake of the Seymour Avenue rescue and the Imperial Avenue murders, the Cleveland Division of Police rolled out a number of changes — including a partnership between the department's Sex Crimes & Child Abuse Unit and the Cleveland Rape Crisis Center — but those who gathered Monday night raised concerns that not enough is being done. Even in the wake of the city's most visible and horrendous criminal tragedies, activists and families in Cleveland are feeling the burden of having to take matters into their own hands. Hence the fliers adorning car windshields on the city's westside this week.


"All the years before that — I swear I don't know how many missing person families we've dealt with," Judy Martin, head of Survivors/Victims of Tragedy, tells Scene. "After the Imperial women, after some of the changes, they must have been doing better, because [the families] weren't calling us. What is this? Are we going back to where it was? We can't have that."


Martin's been around for years with local families looking for missing persons. Decades into this work on the streets of Cleveland, she remains flummoxed by the lack of police presence. And each new family ushered into that bond of pain and uncertainty learns those lessons that Martin holds dear: You need people to talk, and you need information right now.


"Whoever is harboring her — she's only 15 — we need to know," Rita says. "Who does that? What parent is going to just let this child come into their house and not consult the other parents? It's been 30 days, and the Cleveland Police Department hasn't done a thing."