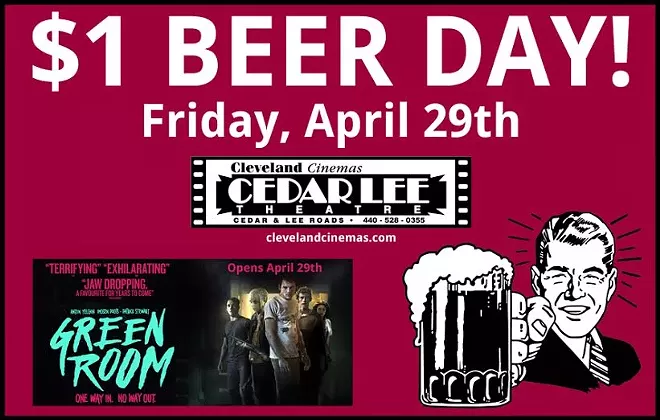 The day after it
hosts a screening
of the 1984 Prince film
Purple Rain,
the Cedar Lee will offer $1 Coors Lights as a special promotion. The Cedar Lee has been selling beer and wine since 1989, and the one-night-only offer is meant to remind Clevelanders of that fact.
"The Cedar Lee Theatre was first in Ohio, and to the best of our research, the country, to offer adult beverages to movie patrons," a press release said.
In addition to the $1 Coors Lights, the Cedar Lee's standard selection of beers, wines and cocktails will be available at regular price.
"What a treat to be able to enjoy a beer at a great price while watching a movie," says Jon Forman, President of Cleveland Cinemas.
But what'll you
see,
for heaven's sake
?


Fear not, movie goers. The Cedar Lee's got more than highbrow art house fare and foreign snoozers for your viewing pleasure. On the docket for next Friday, in addition to the new Patrick Stewart punk-bank thriller
Green Room
and the Don Cheadle Miles Davis biopic
Miles Ahead,
are the Richard Linklater 80s college romp
Everybody Wants Some,
and
Elvis & Nixon,
a small-scale political comedy starring Michael Shannon and Kevin Spacey as the King and the President, respectively.
Both were reviewed in this week's issue of
Scene.