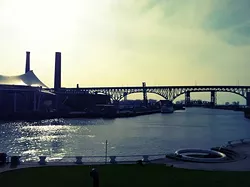 ERIC SANDY/SCENE
Even the merging of nature and industry is (kinda) beautiful in Cleveland.
Cleveland has been racking up the tourism accolades for a few years now. Add another notch to the post. The city has been recognized as being a top spot to bring the family by
Gogobot.com
.
The 2016 Family Travelers' Rising Stars Destinations winners are chosen based on feedback from vacationers and through grades for the family friendliness of local attractions and hotels.
Here's what they had to say about Cleveland:
With a lakeside location, a natural history museum, a children's museum, a zoo, and the Christmas Story House, this Rust Belt town is on the up and up, especially if you've got little ones. There are even a few vineyards, if you can find a babysitter.
They also say Cleveland is a wonderful big city with a small-town feel.
The Renaissance Cleveland Hotel, Hyatt Regency Cleveland at the Arcade and the Ritz-Carlton Cleveland get named as the best places to stay, and the West Side Market Cafe, Great Lakes Brewing Company and Lucky's Cafe as the best restaurants to visit.
As for attractions, the Rock & Roll Hall of Fame & Museum, Cleveland Metroparks Zoo and Progressive Field top the list.
We know there's oodles more than just that, but it's a healthy start.