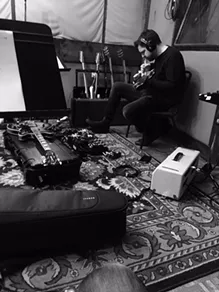 When country singer-guitarist Vince Gill was putting together plans to go out on the road in support of his latest album,
Down to My Last Bad Habit
, he reached out to guitarist Tom Bukovac, who had played on all of the tracks on the new record, to see if he might want to come along.
"You know, I think Vince was surprised when I told him [I'd do this]," Bukovac says during a recent phone conversation. "He asked me to do the gig and he thought for sure I would say no and I was like, 'Hell yeah, man. I'd love to do it.' Because I just respect him so much and I'm so proud to be playing with that band. It's like an all-star band. There's a legend in every chair."
The Northeast Ohio native, who grew up in Willowick, has worked in the Nashville music scene since 1992.
He has fond memories of the time he spent growing up in the Cleveland area. His mother Norma owned an area bar, the Surfside Lounge in Eastlake, where he got an early musical education. "I basically would hang out there all day in the summer and went to work with her and I'd hang out and watch all of the bands playing there. It was great for me. I learned a lot."
"I started playing really early," he recalls, when it came to learning to play guitar. "Doug, my oldest brother, I used to just watch him play and thought, 'That would be cool if I learned how to do that.' So he showed me a couple of things to get me started and by the time I was 10, I was totally into it and just started playing constantly. I goofed with it before then, but was never real serious about it until I was about 10 and then I just started playing obsessively. It was pre-internet. I always say that I'm glad I learned how to play an instrument pre-internet, because you could spend six or eight hours a day back in those days, playing, and it didn't feel like you were missing anything. Nowadays, there's so many distractions. Everybody's checking their emails and phones all of the time. But man, those pre-internet days were great for learning the instruments."
His sister Joyce was an additional important influence, introducing him to the music of the Beatles, a big musical gateway that eventually led him to dig further into bands and artists like David Bowie, Genesis, Yes, Lynyrd Skynyrd, The Cars and Led Zeppelin, "all of the classics," as he puts it. He spent a lot of time listening to albums, learning by ear how to play his favorite songs.
"I would just sit with records and put the needle back a million times to try to figure out licks of AC/DC and stuff like that. I was always just trying to learn how to play stuff right," he remembers. "You develop your ear really good like that, you know, because I wasn't learning off of YouTube videos and stuff. I look at them now, you know, because it's great. You can learn jazz and whatever. It's great to watch instructional videos. I still do that."
Bukovac admits that there was one particular song that he struggled with.
"I still don't know how to play it right, but I tried like hell, that old Steve Howe thing, called 'The Clap,' he says. "It was like an acoustic solo and I tried to learn that. I think I got pretty close, but I don't think I ever quite got it exactly right."
By the time he was 13 years old, he was playing all of the local neighborhood bars on Friday and Saturday nights, staying out late until two in the morning. "It's hard to believe that it even happened back in those days," he says now.
During his Cleveland days, Bukovac could be found playing in bands like Fayrewether, Catch 22 and Bob Gatewood's Calabash.
"You know, that gig with Bob was really amazing for me," he says. "We played a lot and we had a repertoire of like 300 oldies, like '50s, '60s and '70s tunes. We'd just go from one song to another in these medleys and I learned all of those wacky old songs. It was pretty good for me to learn all of that stuff, playing in that band. And it was the first good paying gigs that I could ever get back in those days. We were playing a lot and that was a big moment for me. I played bass in that band for many years before I even played guitar, because they already had a guitar player."
Gatewood has fond memories of that time period too.
"He was on bass to start but when I heard him play guitar I immediately moved him to that," he says via email. "On a scale from one to ten I would give him about a ninety-four. He loved playing at Put-in-Bay with us but we all knew he was destined for bigger things. He's produced and played on all my albums since then. He's what you call a 'track maker.'"
When he eventually made that decision to move to Nashville, it was a leap of faith that with a lot of hard work, paid off in a big way. He hardly knew anyone is town and would try to sniff out auditions as best he could.
"I remember that it took about maybe five or six months to get my first audition once I'd moved here," he says. "I didn't get it, but the guy that they picked, it ended up not working out, so they called me back and then that's how I got it. I was like second place. But you know, once you get one of those road gigs here in Nashville, it quickly can lead to another and to another and to another and you start jumping around and leap frogging on gigs for whatever is a better paying or a more prestigious gig. That's what everybody does. You know, you get one road gig and everyone know, 'Oh, this guy is okay, so maybe [we can] try him for this gig.' You keep jumping around. It's really hard to keep a band together in Nashville for that reason, because everybody's always just jumping gigs."
Within a couple of years, he found himself out on the road with Wynonna Judd and in the midst of the next phase of his developing career, which included additional road work with John Fogerty and Faith Hill.
"That was pretty serious business, back in those days, because Wynonna was pretty big still," he says. "[She had] a killer band and I did that for like four years and met a lot of people doing that. That's when I kind of slowly started working my way into the studio scene. It's really hard to break into the studio scene here. You've really got to work hard and be really good to kick ass in the studio scene around here. It's very, very difficult to do. It's way harder than getting a live gig. The credentials of playing with her and other people really helped me break into the studio thing. Right around 2000, I made a totally conscious effort to quit the road and be a fulltime studio guy, which I knew is what I wanted to do. I wanted to stay home. I've never been really big on touring anyway, honestly. I never really liked it that much."
Bukovac was back home, but his schedule got even busier and as he tells us, he was working six and seven day weeks, spending 13 hours a day in the studio. The stack of credits that he's racked up is pretty staggering — he's played on five hit Carrie Underwood albums, four Keith Urban albums, and with a large laundry list of additional major country artists, including Rascal Flatts, Lady Antebellum, Blake Shelton, Florida Georgia Line and many more. And Bukovac's work extends far beyond country — he's logged studio time working on albums and songs by Brian Wilson and the Beach Boys, Bob Seger, Stevie Nicks, Don Henley and Steven Tyler, a broad overview of his extensive album credits.
"That's all I did for 10 years. It was insane. I played on like 600 records. Three times, I won that ACM [Academy of Country Music] 'Guitar Player of the Year' [award] because I was just such a household name as far as recording. And then I kind of retired. I still do it, but I've slowed way down. I just got kind of burned out on that. It's great, but it can be intense. I do like a third of what I used to do now and I'm way, way happier. That's why I was able to take this Vince gig, because I'm not as busy in the studio as I used to be, which is kind of by choice. When I do get in the studio these days, I appreciate it a whole lot more and I enjoy it a lot more than I was."
He's really enjoyed the experience working with Gill and has high praise for the music veteran.
"We've made several records. Some of his own solo records and then stuff that he's been producing for other people, like Ashley Monroe, his daughter and stuff. We've always had a great time. I love working over at his studio, because he's got a real cool studio with like a million killer vintage guitars all around. He's just a great dude. Vince is such a solid guy and such a cool person and he's unbelievably talented and so well-respected. You're never going to hear anybody ever say a bad word about that guy. Even though he's not one of the new hip upcoming country stars that everybody's talking about at this moment, you know, he's like the Paul McCartney of country music. So it's been really cool. I've learned a lot from him and it's been really good for him. I've been glad that I took this gig .I really like playing that old school traditional country music, which I'm a big fan of. That band, when they play some of that old school stuff, it's so authentic and so real. Because that's a real art form, playing that old school country and those guys do it really well. It's really fun to play that stuff."
When the Gill tour rolls into the Hard Rock Live on May 6, it will give Bukovac the chance to play his first hometown gig in a while — he's played shows at Quicken Loans Arena with Faith Hill and Blossom Music Center with Wynonna in the past — and he's looking forward to being back in town.
"You know, I was 24 when I left there, so a lot of the stuff that happened in Cleveland [after that], I don't know anything about, honestly. I miss a lot of it. But I remember that back in those days, Cleveland was a big rock and roll town and there was a lot of cool acts playing there. We're going to be playing there in Northfield and I'm excited about that. It's always good to get the family out and see everybody."
When he's not in the studio or on the road, chances are good that you'll find Bukovac in one of two places — either enjoying the home life with his wife, songwriter Sarah Buxton and their "two Sagittarius boys" or talking shop with fellow musicians at 2nd Gear Used Music, his music store.
"I've had that going for a couple of years. It's something I always wanted to do, because I always loved buying and selling vintage guitars. It's always been a real passion for me. I love having a music store. It's just a lot of fun and it's good to have a hobby," he says. "It's all used consignment instruments and stuff like that. It's really good for me, because I get to stay in contact with tons of people and it gets me out of the house every day. I get to know a lot of the young guys that are around town playing and stuff. It's really been cool for me. It's been open for a couple of years. I'm having a ball with it."
Vince Gill, 8 p.m. Friday, May 6, Hard Rock Live, 10777 Northfield Rd., Northfield, 855-660-7625. Tickets: $45-$75, hrrocksinonorthfieldpark.com.