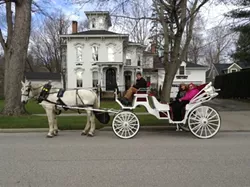 Sometimes it's not winter but not yet spring and you're sitting at your sad computer, in your sad apartment, staring out of the window onto a sad, cold, gray, barren Cleveland landscape. You don't want to feel this way, so you check all of your social media sites in search of a much-needed hit of dopamine. When that doesn't work, you check your email. You have a new email. It's an email from Groupon, but an email that was sent specifically to you by their algorithm, so you open it. The email says that you can now purchase discount tickets for exciting events in your area. The email says that one of these events is a romantic carriage ride in quaint Chagrin Falls. The email says that the carriage rides will happen in April, which is in the spring, which is when the view outside of your window will be full of budding trees and flowers and squirrels who aren't upsettingly thin. You buy the carriage ride because you want to believe in hope again and your girlfriends agreed to come with you.
And now it is April and you are in lovely, quaint Chagrin Falls on a Saturday evening, cursing everything that moves because you've been driving around these lovely, quaint streets for 20 minutes and still haven't found parking. When you do finally find a spot, it's in a the parking lot of a church that you hope loves Jesus enough to not have anyone towed. You rush to the carriage, apologizing profusely to all of your very patient friends, climb in, and then the horse refuses to move. You blame yourself, and the enchiladas you ate for lunch.
But then the horse does eke forward and slowly begins to clop-clop down the street. You finally have a venue suited to your English royalty wave – elbow, elbow, wrist, wrist. The throngs of people out in Chagrin Falls, enjoying the light spring evening in addition to all of the parking spots, smile and wave back. Due to the sound of the clopping it's too loud to talk, so you focus on the lovely homes you're being pulled past. They really are fantastic. These are homes that make you want to immediately get pregnant and put your kid on the waitlist for baby yoga.
The carriage stops for a photo op in front of a particularly gorgeous house that is also for sale. We're all curious, we all have smart phones, so you look up the price of the home. It costs so much that the website immediately shuts off because it presumably knows your credit score and doesn't want to waste its time.
As you are pulled down the quiet neighborhood streets of Chagrin Falls, you start to really think about your life. These are nice homes. You would like a nice home. Are there any open CEO positions you could apply for? The driver helpfully points out that one such home is owned by the person who invented the Yonanas banana ice cream maker. So you just need to invent something that will turn healthy fruit into disappointing ice cream. Simple enough.
You pass perfectly sculpted lawns, lush flowerbeds, and fences without a speck of grime. And you start to think about what it is you actually want. These houses are lovely to look at, but you have to be honest with yourself and admit that you would not, under any circumstances, actually weed your yard or power wash your fence. And you'd need to buy that special cleaner for granite counter tops, and dusting the wainscoting is really going to take a chunk out of your Saturday mornings. Plus, the constant gawking carriage riders looking up your home price on Redfin must be a real nuisance.
Pro-tip:
When standing in the hour-long line for Jeni's Splendid Ice Creams afterwards, pretend that everyone around you is in line to audition for The Voice.
Rating:
5 out of 5 inklings that maybe you should try to make more money.