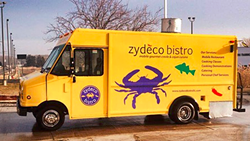 Walnut Wednesday is back for your lunchtime eating pleasure.
The seasonal weekly event is now in its sixth year, and starting today and every Wednesday through September food trucks will line Walnut Avenue and East 12th Street from 11 a.m. to 1:30 p.m.
Can't make it out on a Wednesday? Memorial Mondays will take place from 12 p.m. to 1:30 p.. at Huntington Park (near the Justice Center), and on Tuesdays food trucks will line up near East 9th Street and Lakeside Avenue beginning in June.
Here's today's lineup: