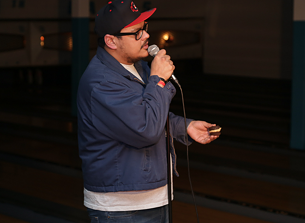 UPDATE:
Ramon Rivas hits the comedy stage tonight (eeearly Friday morning, to be exact) at 12:30 a.m. on Comedy Central.
The Half Hour
highlights some of the funniest up-and-coming stand-up acts around the country.
***
Comedy Central announced this morning the
17 comics
who will get half-hour specials on the network's The Half Hour, a series devoted to up-and-coming standups. Included on that list is Cleveland's own Ramon Rivas. The shows will tape in New Orleans between June 1 and 4 at the Civic Theatre.
We caught up with Ramon to talk about the big news.
What's this opportunity mean to you? You've watched how many of these sets on Comedy Central and then the network comes calling for you. What's that immediate reaction like?
It definitely means I want more free sandwiches when I'm home in Cleveland. It's a very surreal experience. As an unsigned, unrepped artist I constantly am told the only way to get on TV is to get a manager or agent to help guide me into those things. I used to download the old Comedy Central Presents (with the trumpet) on Kazaa/Limewire when I was a kid. I've watched lots of friends get them the last few years. They called me while I was in Chicago sleeping on friends' couches doing free gigs. My immediate reaction was: "Can I tape it in Cleveland?". But they're doing them all in New Orleans this year so I get to go down there for the first time.
When you take stock of the last however many years and what you've done with the Accidental Comedy Club and Festival, what's the reaction when you sit and think about it for a minute?
I'm definitely happy that the energy and effort I've put into bringing people together has finally started to gain momentum within the city. To see people go from audience members to performers themselves is enriching. I'm thankful every single time People come out to see some dumb accidentalcomedy.com production the group puts on. I hope as I'm gone more and more, the group continues to help comedians professionalize themselves while also building the arts community in Cleveland through comedy.
Your checking account bounced the same week or so that you brought Hannibal Buress to Cleveland (which you announced both onstage and on social media). What's it like to be in that position financially and professionally?
I'm normally very good at balancing my checking account to the cent, but a renewal of my squarespace account (needed for professional life) caused the overdraft. After a year of trying comedy I decided to treat it like a full time, non paying job. It still mostly is. Sometimes, people donate money at shows and I'm able to spread a few bucks around to comics for gas and myself for living, but paid work can be scarce. Hopefully things pick up with the special, but I'm real good at being poor so I'm about to crush having a lil bit of money!
What's the set going to look like? Fresh stuff? Some hits?
The Half Hour special will be evergreen (non topical) material that has proven itself over time. I'll be spending the month work shopping the set at Mahalls (see
blazerramon.com
for dates), headlining Hilarities Sunday May 15 running an hour and getting a feel for what would work best in a shorter set, then Wednesday May 25 I'll run pretty much a finalized version of what I'll do on the special at The Cleveland Improv. Tickets for either of the club shows are only $10. I took door deals so I'm hoping they sell out so I can offset the cost of flying my mom/dad/sister and her 3 teenage kids down to New Orleans. I'm excited to share the experience with the people that have supported me most.
What's the process that led to this?
There was no one thing. Lots of little things added up. Doing shows with comics I'd worked with in Cleveland while I was traveling exposed me to some Comedy Central eyes. Then I was invited to do a comedy fest in Chicago called Breakout Comedy Fest, put on by NBCUniversal and Second City to find exceptional comedians of color. There, I met a few more Comedy Central folks. The one from New York said if I was ever in town let them know. I was going the next week. I walked into a meeting with 6 executives at CC and all of them had already seen me performing opening for pals I made in Cleveland. I invited them to last years Accidental Comedy Fest (this years is August 26-28) and though they were unable to swing it, they remembered to schedule me for a comics to watch audition. Then enough people had seen me and liked me to champion me thru to getting selected. Then they told me the deadline for submissions for this years specials and I barely made it. I recorded a 28 minute set in Chicago on my phone, edited it and uploaded it from my phone and emailed it. Then I forgot about it until they called me.
Who's the first person you told the news to and why?
I texted my family. A group text. My nephew said he was upset he was stuck on a text while he was at school. He didn't realize what was going in. I picked him and my youngest nephew up at school when I got back in town and asked if they'd wanna come to New Orleans to see me record my special. They said, "Nahhhh," then I said come on I'll fly you down. Then they said, "Definitely not. We just watched 'Castaway.'"
It took some convincing, but they're coming!