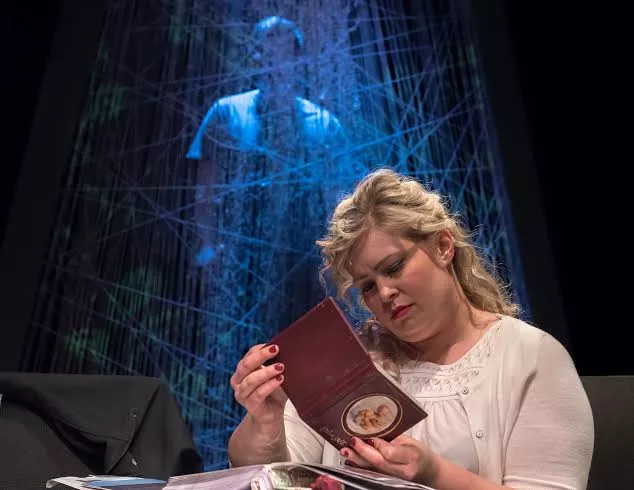 Sometimes, this job takes you by surprise. Sometimes, you're enjoying a pleasant, sunny Sunday afternoon and you walk into a theater to see a matinee rendition of a show you've seen done splendidly three other times. So expectations are not very high. And then, you're blown sideways by a great performance.

So it is with Next To Normal, now being presented by the Lorain County Metro Parks and TrueNorth Cultural Arts. While this production may not equal the others I've seen (at Playhouse Square, Beck Center and Lakeland Civic Theatre) in terms of vocal quality and range, I've never been impacted so emotionally by this play about a woman with severe manic depression.


Director Fred Sternfeld has never been better as he scouts out all the pain points in this riveting, virtually sung-through story without ever toppling over into maudlin sentimentality. The powerful score by Tom Kitt and the perceptive book and lyrics by Brian Yorkey fit together seamlessly in this version, as we see a suburban family trying to grapple with mom's often debilitating condition.


And the cast is well-nigh perfect. Kristin Netzband embodies all the determination and confusion a woman whose mind is betraying her, and Rick McGuigan as her husband Dan is a bundle of contradictions as he tries to cope. Their two kids are played with well-modulated finesse and intensity by Kat Hargrave as 17-year-old Natalie and Tony Heffner as Gabe. Indeed, Heffner ripples with clenched frustration even when he's in shadows on stage, giving his unique role added heft.


As Natalie's main squeeze Henry, Robert Kowalewski is a slightly off-center and believable match for Hargrave's Natalie. And even with a couple line blips, Justin Williams is solid as the two docs who treat Diana.


The production is enhanced by a set created by one of the area's A-plus design teams. Ron Newell's simple yet evocative scenic design, employing three distorted frames, strung tight with strands, functions as an apt visual metaphor for Diana's struggles. And T. Paul Lowry's projections within and around those frames offer just enough counterpoint without becoming distracting. Indeed, all the designers and the five-piece orchestra under Anthony Trifiletti's baton help make this production gleam.


So if you're one of those people who never want to drive to to the west side, or the east side, to see a show, get over yourselves. There's a special show out in Avon, and it's worth the trip!