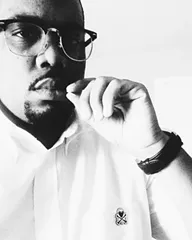 Local rapper/producer Archie Green has asked himself why he felt suicidal more than a few times over the past couple of years. On a recent evening at the Tavern Company on Lee Road, Green appears to ride a different kind of wave. Earlier in the week, Green appeared with a handful of other rappers in a roundtable discussion on the
Vice website
about depression and its place in hip-hop, and the song he created tackling the subject, "Layers," piled up streams on SoundCloud.
"I kind of hit a breakthrough point in terms of getting back to normal, so to speak or getting to a point where I was basically over my depression," Green says. "I had gotten to a point where I was feeling a lot better and at the same time I was compelled to write about it. That in itself was a therapeutic experience for me. So, as far as putting it out, as an artist it's our job to be transparent and tell our story in hopes of there being someone else wholesale can also relate."
Over a hearty platter of food and refreshing drinks, Green looks back on a darker period in his life. Green, who in his earlier days went by the moniker SoulKlap, had come back to Ohio after earning his Master's in music business at NYU. He got a DUI and lost his license for a year in the process of it all.
"The DUI was a traumatic experience," Green says. "That's what my therapist told me. But what I hadn't realized was that I had been depressed for a period of time leading up to that. It was truly manifested after this traumatic event but I had been depressed primarily from times where I might not gave gotten the support that I felt like I wanted. Not just from fans and peers, but also my parents — not to say that they didn't support me, but they were afraid."
Green says he was also worried that if he "put all my eggs into this one basket of music," there's no guarantee that I'll be able to make a decent living off of it."
"They wanted me to do something a little more safe, reliable and whatever the case may be," he says. "At the same time, there were periods when I felt like I was alone. After my DUI and my license being suspended, I was basically isolated. It was self-imposed isolation because at the time I lived with my parents in Aurora, which is out in the middle of fuckin' nowhere. It took at least 20 to 30 minutes to get anywhere near civilization in my book. So I felt like I would've been a burden calling on friends [to hang out or for rides]."
That period of time was rough for Green, but at the behest of one of his fraternity brothers, he began to seriously consider seeking professional help.
"There was a lot of asking God 'Why?' and a lot of talking to myself," Green recalls. "A lot of prayer. Talking to my family, talking to my friends. But honestly, I think what helped me through the dark times was going to a therapist. I was nudged by one of my friends, who's also a therapist. He said, 'Hey it might not be a bad idea to reach out to somebody and talk to them about what's going on. Not saying that there's anything wrong with you, but you might want to talk to someone.' I had flirted with the idea of meeting with a therapist and finally decided to do it."
Green stopped flirting with the idea and made it official following an episode while Green and the rest of his family were celebrating Thanksgiving.
"I was renting a house with my sister," Green says. "This was two years ago. After dinner, I needed to go to my room to be alone. It was almost like I had gotten claustrophobic or some shit. I didn't know what it was, but it was weird because I've been around these people for all of my entire life and all of a sudden I needed to be alone. That's when I knew I needed to see what's really going on. After going to a therapist, that's when I was clinically diagnosed with depression. "
Green swears by his therapist and recommends that anyone who feels as if they need someone to talk to should look into it as well if possible, but he's well aware of the stigma that comes along with mental health care — especially in the black community.
"There's definitely a stigma and it has to be talked about," Green insists. "The other thing I wanted to break down was the belief that depression is this rare disease. Depression is a lot more common than people think. It's very common — especially right now as an African American male in the 21st century in America. I can look at my timeline on Facebook or Instagram, I can look at the Cleveland Police Department and hear about certain injustices and be depressed about that."
He thinks that stereotypes about black men contribute to the problem.
"Black men are looked upon by some to be very manly, very masculine and being depressed or being a crybaby or whatever you want to call it, is emasculating," he says. "Because of that when there's something mentally wrong we think 'Well, I'll talk myself out of it' or 'I'll go see my pastor about it' but we'll definitely keep it in house. We won't share that with the world. My mother's a 21-year breast cancer survivor and when she was first diagnosed, her mother, my grandmother said, 'You aren't going to tell anybody, are you?' That generation, they took those problems head-on without really talking to somebody about it. The thing with depression is that depression could be genetic, it could be a chemical imbalance in the brain. There's nothing at all wrong with you, it's just that some tools need to be rearranged."
Although he's much better, Green still sees his therapist. And he's happy to share his experience through his music with anyone who will listen.
"I'm in a very happy place," he says. "I have bad days just like anyone else but they're just regular bad days, nothing that would send me over the edge. It's not nearly as bad as it was because I've been able to talk through it. I had a lot of breakthroughs during the last two years that I've been going to therapy. I've got good people around me and honestly, now that it's out there and my music is out there as well, the response has been golden. I had no idea that it was going to resonate that much and also the fact that there's so much going on now with mental health. It's a super duper important subject that many people haven't touched on. If I can help usher in this new discussion, let's do it."
Green's contribution to the conversation, "Layers," garnered 25,000 streams in its first two weeks and is closing in on 30,000 now.
""Layers" is the song where I tell about what I went through over the past two years — from my DUI, to living at my parents house, to moving in with my sister," Green says. "We were renting the house from our cousin and for the first six months, I didn't even have enough to pay my portion of the rent. That also contributed to the depression, like 'My younger sister is paying my rent.' Like I said before, I wasn't suicidal but I was asking why this was happening to me. I was still doing music at the time and it wasn't hittin' the way I wanted it to like 'I just got this degree from NYU and I'm back at home doing the shit I was doing before.' I tell that story, but I also tell about how I never gave up on myself and how I still believed in myself. The way it came out, I have to credit the engineer/co-producer Perry Wolfman, who's a student at the Cleveland Institute of Music. He brought in the live musicians. Thanks to Kynan, Kiarra, Kyle and Linda. That really elevated it to the next level sonically. When I made the original beat, it invoked something that felt more introspective and vulnerable and up to that point I had never been that vulnerable ever."
The song comes from Green's upcoming Black Pharoah project, which he plans to release in the coming months.
"No, thank you," Green says to a bartender who offers him another beer as the night at The Tavern Company begins to wind down. "As a matter of fact, can I have a glass of water?"
Green knows his limits. He knows where he's been and he certainly knows that he doesn't want to go back there anytime soon. He'll keep telling his story and working to erase the stigma of mental healthcare one stream at a time.
Archie Green, Common Ave, FreshProduce, Obnox, R the Czar, 9 p.m. Friday, May 20, Grog Shop, 2785 Euclid Heights Blvd., 216-321-5588. Tickets: $10 ADV, $12 DOS, grogshop.gs.