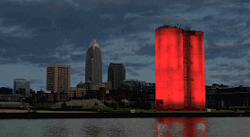 Taking a cue from the
popular Terminal Tower lighting ops
, the Cleveland-Cuyahoga County Port Authority is moving on plans to light up the two harbor silos that sit at the mouth of the river.
Before you ask — yes, this will be up and running in time for the RNC.
It's a bold move for the otherwise not-so-flashy Port Authority.
"We're also passionate about creating an inviting waterfront for residents and visitors," Will Friedman, Port Authority president and CEO said in a public statement. "Harbor Lights will provide a spectacular display of public art on what is currently a lackluster industrial structure." ("Harbor Lights" is the official name of the project.)
It's more than just that, though. Port leadership is hoping that Harbor Lights will "change the narrative," "create a nighttime visual amenity" and "aesthetically blur the lines of the port and its neighbors." It's sounds kinda esoteric, but this might be just the thing to make global maritime services hip again.
We can't wait for the @HarborLights Twitter account.
Do'h!