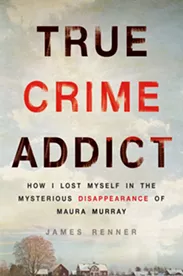 True Crime Addict
, (Thomas Dunne Books, 280 pages), by former
Scene
staff writer James Renner, will be available for sale at bookstores next week.
The true-crime memoir is a narrative of Renner's reporting on the disappearance of UMass student Maura Murray, in 2004, and his own (sometimes harmful) obsession with the case years later.
Renner interweaves the story of Murray's disappearance with the story of the emotional demons he's accrued over years of intimacy with grisly subject matter.
"What I discovered was that my obsessions with these cases are not so different from the obsessions of the people I try to track down," Renner writes. "They hunt victims. I hunt them. Being a true crime addict is not a good thing and I learned this the hard way."
Fans of the
Serial
podcast and Netflix's
Making a Murderer
should appreciate Renner's investigation of the mystery — the short, brisk chapters make for an easy read — and fans of local media will get a kick out of Renner's early account of his pyrotechnic departure from
Scene
, in 2008.
Renner is the author of three other works of nonfiction —
Amy: My Search for Her Killer
(about his investigation of the Amy Mihaljevic case);
The Serial Killer's Apprentice;
and
It Came from Ohio... —
and of two novels:
The Man from Primrose Lane
and
The Great Forgetting.

If you're not familiar with Renner's distinctive feature reporting for
Scene,
here's one of our all-time faves
, about Bob Serpentini's exclusive private club on Lake Erie, Rattlesnake Island.